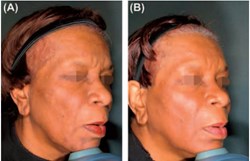 (PRWEB) December 02, 2013
The latest clinic results of TriFractional Technology by Pollogen for wrinkle reduction and facial skin resurfacing were recently published in the Journal of Cosmetic and Laser Therapy.
The study, entitled "Evaluation of safety and efficacy of the TriFractional RF technology for treatment of facial wrinkles," was co-authored by Michael H. Gold, M.D Tennessee Clinical Research Center Inc., Gold Skin Care Center, Nashville, TN, USA, and Jeffery Adelglass M.D. from Texas Pharmaceutical Research, Research Across America, Plano, TX, USA.
During the study, 32 subjects received treatment with Trifractional for the reduction of facial wrinkles and then followed for 3 months after the last treatment. The safety of using the TriFractional system was established by the physicians' assessments and observations for adverse events during the study period. To evaluate treatment efficacy, digital images were assessed and graded by two blinded uninvolved physicians based on Fitzpatrick Wrinkle and Elastosis scale.
Results portrayed tighter firmer looking skin and a reduction in fine wrinkles as well as a brightening in complexion and a general improvement in facial contouring demonstrated by skin tightening. In certain subjects, noticeable corrections to scarring and skin tone imperfections were visible.
At the 3 months follow-up visit, patients completed a survey about their satisfaction from the treatments. A vast majority noted that treatment results met their expectations and they noticed an improvement of skin texture. Most of study subjects stated that they would recommend the TriFractional treatment to their friends. The results also indicated that the study subjects found the TriFractional treatment effective and tolerable.
Mr. Amichai Bar Nir – CEO Pollogen Ltd.: "We are thrilled about this new clinical study on TriFractional Technology. This study validates our continued commitment to producing safe, effective and virtually painless technologies that deliver significant long lasting results that enhance over time. We are proud that such prestigious aesthetic physicians as Dr. Gold and Dr. Adelglass chose to conduct this study."
About Pollogen:
We believe in constantly challenging ourselves to create the most advanced, effective medical aesthetic technologies and solutions. We believe in thinking differently.
In everything we do, we take a customer-centric approach by making our products user-friendly, safe and convenient. At Pollogen there is no such word as "done"; we continually perfect our solutions to provide treatments that are pleasant and effective. We believe in finding ways to develop technologies that work with the body's natural mechanisms so beautiful results are generated from within.
Pollogen is the developer and manufacturer of five revolutionary technologies under the industry premier brand names OxyGeneo™, HybridEnergy™, TriPollar®, TriLipo® and TriFractional™. We offer a full line of clinically-proven, safe and effective, non-invasive anti-aging facial and body contouring treatment platforms for a wide range of aesthetic applications. Pollogen provides solutions for professionals in over 60 countries, addressing the specific needs and dynamic changes unique to the ever-evolving aesthetic industry.