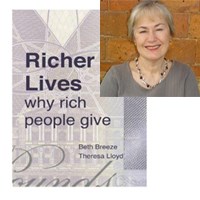 ...invaluable to those asking for money for good causes.
Lingfield, Surrey, UK (PRWEB UK) 2 December 2013
'Richer Lives: Why Rich People Give' presented by Theresa Lloyd
Tuesday, 10th December | 1 - 2:00 p.m. GMT
Philanthropy is of increasing importance in modern society, yet the motivations and expectations of philanthropists appear little understood, either by those seeking funds or by those hoping that voluntary donations will help to bridge public sector funding gaps.
Join Theresa Lloyd, co-author of the groundbreaking book 'Richer Lives – Why Rich People Give' for this webinar as she explains why and how the richer members of our society engage in philanthropy.
This webinar is designed for:

Fundraisers, especially major donor fundraisers
CEOs, senior managers, staff and volunteers in non-profit organisations as well as charity trustees
Professional advisers (e.g. bankers & lawyers, as well as philanthropy experts) working with donors and charities, and relevant umbrella bodies
Academics including students on courses concerned with the voluntary sector, especially students of philanthropy, fundraising and the third sector as well as general social policy.
University libraries and resource centres operated by voluntary organisations
For more information please visit: http://www.chapel-york.com/webinars.php#richerlives.