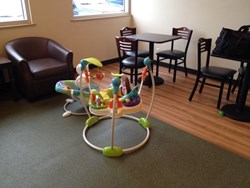 Fort Saskatchewan, Alberta, Canada (PRWEB) December 02, 2013
Restaurant Furniture Canada recently proved why it's Canada's leading manufacturer and distributor by teaming up with Kids Fort and providing tables and chairs to the enterprising café and play space for children.
Founded by a parent with three young children, Kids Fort has both sides in mind. The kids have freedom to play and the adults have comfortable seating to have a drink or a bite to eat, while keeping an eye on the kids. In addition to the play space with many apparatuses play areas for children to play in there is also a café for the parents to relax and enjoy some good food and coffee.
Kids Fort features a custom-made indoor play system designed for kids aged 2-6, as well as a soft play area for those under the age of 2. They also have toy cars the kids can ride around on, as well as many other fun places where the children can play make believe.
Their space is specifically designed so that parents can see their child from all angles of the facility and their eco-friendly flooring is constructed to give cushioning to children's feet. They also offer free Wi-Fi so customers can surf the web or check their email.
The owner heard about Restaurant Furniture Canada's reputation for stylish, well-built commercial furniture and excellent customer service. He opted to go with Interchangeable Back Metal Chair with Slats & Circle. He chose the black frame with the mahogany finish for the wood back and seat. The frame also comes in gold, copper vein, gold vein and silver vein. The solid wood saddle seat also comes in dark mahogany, walnut, cherry and mahogany finishes. Customers can also choose a padded seat made of vinyl or fabric.
The Interchangeable Back Metal Chair with Slats & Circle is an attractive chair and a good choice for restaurant owners who want the sturdiness and durability of metal but also the beauty of wood. These chairs are fashionable enough to fit in any dining establishment and are strong enough for high traffic use in places such as the Full Circle Café. They currently sell on Restaurant Furniture Canada's website for only $57.
For the tables he chose the 24" X 30" reversible table tops for $35 each in mahogany and black finish. The reversible table tops also come in oak and walnut with a brown T-mold edge. The reversible table tops are very popular with customers because they are durable and affordable, ideal for fast casual restaurants. They came in square, round or rectangular shapes in a wide variety of sizes.
To browse Restaurant Furniture Canada's full selection of chairs, bar stools, table tops, table bases, booths and patio furniture visit http://www.restaurant-furniture.ca/ or talk to a customer service representative at (888) 998-4222 for answers to all your questions on restaurant furniture.
Kids Fort is located at 8741 84th St., #109 in Fort Saskatchewan, Alberta Canada. They can be contacted at: (587) 245-4422.