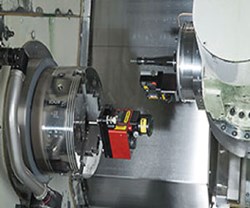 We underestimated the market.
Houston, TX (PRWEB) December 04, 2013
We have talked with numerous machine tool manufacturers and field service organizations and they are experiencing calls for machine alignment on a regular basis, some of them nearly every day. A procedure that used to take several hours can now be done in a fraction of the time with the E940. The cost savings for this new system can quickly run into the six figure range depending on the parts and reduction of down time. In some cases the system has paid for itself in just one alignment job.
"The E940 is one of the hottest products we have on the market", states Troy Broussard, President of Cascade MVS. "The response to this system has been phenomenal. We knew there was a need to for a quick easy machine tool solution but we underestimated the market", says Troy.
The Easy-Laser® E940 Machine tool system is the market's most complete measurement system for measuring and aligning machine tools. You can measure straightness, flatness, squareness, spindle pointing direction, level and much more. The system can handle most tasks in this field, despite the fact that there is considerable variation in machine design: different types of lathe, milling machines, automatic drills, presses, water cutting machines etc.
Compared to conventional methods, such as dial gauges, mandrels and stones, work can be carried out much more quickly using a laser measurement system. And don't forget, the measurement result can be documented and compared to ISO10791-1 and 10791-2 used for machine tools.
Whether you are doing a full alignment job or just performing a quick check for quality purposes, the Easy Laser E940 is the best solution on the market.
About Cascade MVS
Cascade MVS bridges the gap between manufacturers of machinery condition monitoring instrumentation and organizations leveraging the power of asset health management products. Our goal is to be a trusted partner for our customers in order to enhance the performance of their business and provide them with piece of mind knowing their machinery is running smooth. By providing innovative solutions along with industry leading customer service, our customers enjoy effective, affordable asset health management programs with the first class support they deserve. Our premier group of consultants will work to establish an asset health management system that fits your business and budget in order to maximize your return and keep your assets producing revenue.
Specialties: Laser Alignment, Shaft Alignment, Geometric Alignment, Problem solving utilizing vibration analysis, rotor dynamics, modal analysis, operational deflection shape (ODS), field balancing, bearing load calculations and modeling.
For More Details, visit http://www.cascademvs.com or http://www.thetotalalignmentsolution.com.