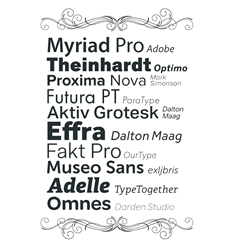 "The latest font trends are always fascinating. WebINK customers continue to value quality crafting mixed with both leading-edge design and timeless classics from great designers."
Portland, OR (PRWEB UK) 5 December 2013
Extensis revealed today the list of top 10 web fonts used in 2013. According to data collected from the professional web font service WebINK, designers and developers used Myriad Pro most often for their projects, a position it also held in 2012.
New to this year's list of top 10 used fonts are Fakt Pro and Museo Sans. These both continue the typography trend toward modern san serifs.
Fakt Pro by Thomas Thiemich is a fresh "Helvetica alternative," as are several others already on the list such as Theinhardt and Aktiv Grotesk.
Museo Sans is a geometric sans serif by Jos Buivenga, that has a warm and somewhat retro feel, not unlike its Top-10 stablemate Proxima Nova.
The top 10 web fonts in use for 2013 are:
1. Myriad Pro by Carol Twombly & Robert Slimbach from Adobe
2. Theinhardt by François Rappo from Optimo
3. Proxima Nova by Mark Simonson from Mark Simonson Studio
4. Futura PT by Paul Renner, Vladimir Yefimov and Isabella Chaeva from ParaType
5. Aktiv Grotesk, a team effort from Dalton Maag
6. Effra by Fabio Luiz Haag & Jonas Schudel from Dalton Maag
7. Fakt Pro by Thomas Thiemich from OurType
8. Museo Sans by Jos Buivenga from exljbris
9. Adelle by Veronika Burian & José Scaglione from TypeTogether
10. Omnes by Joshua Darden from Darden Studio
Thomas Phinney, industry font guru and Senior Product Manager, Fonts & Typography at Extensis, noted: "The latest font trends are always fascinating. WebINK customers continue to value quality crafting mixed with both leading-edge design and timeless classics from great designers."
WebINK fonts are directly available via the web font service at http://www.webink.com, and can also be previewed through the recently released Suitcase Fusion 5.
To learn more about this year's top 10 list, visit the WebINK blog.
To see a demo of the top 10 fonts from Phinney, click here.
About Extensis' Web Font Solution: WebINK
WebINK is the standards-compliant solution for bringing live fonts to websites and mobile devices without licensing or file format hassles. By integrating one line of CSS code, WebINK delivers professional-quality fonts to any browser and any device instantly. With distribution hubs around the globe and 99.999% uptime, multi-national businesses turn to WebINK for the speed, reliability, and scalability they require to do business online. To learn more about WebINK and its library of thousands of world-renowned fonts, visit http://www.webink.com.
About Extensis
Celebrating 20 years in business, Extensis® is a leading developer of software and services for creative professionals and workgroups. Their solutions streamline workflows, securely manage digital assets and fonts, and control corporate typographic branding. Used by hundreds of Fortune 5000 companies, Extensis' award-winning server, desktop, and web service products include: Portfolio Server® for digital asset management, Universal Type Server® for server-based font management, Suitcase Fusion™ for single-user font management, and the WebINK® web font rental service. Founded in 1993, Extensis is based in Portland, Oregon, and the United Kingdom. For additional information, visit http://www.extensis.com.
© Celartem, Inc. d.b.a. Extensis All rights reserved. EXTENSIS, WebINK, and Suitcase Fusion are trademarks or registered trademarks of Extensis in the United States of America, Canada, the European Union and/or other countries. This list of trademarks is not exhaustive. Other trademarks, registered trademarks, product names, company names, brands and service names mentioned herein are property of Extensis or other respective owners.