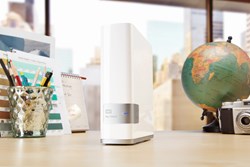 (PRWEB UK) 3 December 2013
Britain is a nation in "digital chaos" with only sheer luck preventing them from losing precious personal photos, videos and files. That's the verdict of leading digital storage company WD®, which has released the results of a study conducted by WD that found that British households store personal files on no fewer than 14 electronic or storage devices with 61% of us never backing up a single item of data.
The European-wide study of 7,500 people, conducted in coordination with the launch of WD's new family of personal cloud solutions, My Cloud™ drives, found that although 79% of the 1500 people surveyed in the UK believe they are organised in their daily lives, the complete opposite could be said for their digital footprint.
WD's research found that Brits keep files on a plethora of devices, including mobile phones, tablets, laptops, personal computers and USB sticks. Of those that do not back up, 22% said they cannot be bothered and almost 20% don't even know how.
With many having a personal reluctance to be digitally organised, many parents have even admitted they'd rather pay their children to back up their files for them rather than go through the hassle of doing it themselves. Organising parents' digital content is the new household chore, replacing the traditional pocket money earner of washing up and cleaning the car, which ranked in third and second place respectively.
Although Brits are digital scatterbrains, it appears we fare slightly more favorably compared to our European counterparts. Of the five European countries involved in the study, Spain was cited as the most digitally disorganised using 16 devices, with the Germans and Italians not far behind with fifteen each.
Scott Vouri, Vice President, Consumer Marketing, WD said, "Years ago people would get their photos developed and organise them in family photo albums, but now Britain is in digital chaos with only good fortune preventing everyone from losing files and photos forever. With almost one in five of Brits in WD's study admitting they don't know how to back up their all-important data, the new My Cloud personal cloud device not only enables people to organise their data in one secure location at home, but also means that it can be saved and accessed from anywhere in an instant, making sharing with friends and family easier than ever before."
The My Cloud family of personal cloud solutions from WD is an easy, secure and affordable way for families to control their digital chaos, with access to all of their files from anywhere, anytime with mobile and desktop apps.
The My Cloud personal cloud devices are available online at http://www.shopwd.co.uk. RRP £129 for the 2TB and £159 for the 3TB capacities, respectively.