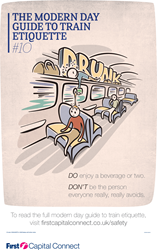 If you're drunk on the railway you're far more likely to hurt yourself.
(PRWEB UK) 4 December 2013
Rail company First Capital Connect (FCC) has launched the second phase of its 'Modern Day Guide To Train Etiquette' in time for Christmas, urging passengers to think before they drink and to be careful in icy weather.
Alcohol is a factor in around 8% of passenger accidents at FCC and last year double the number of people (21) were hurt compared to the year before.
Over half of these (around 55%) resulted in the person being taken to hospital from the scene, which is more than double the normal rate.
Customer Service Director Keith Jipps said: "If you're drunk on the railway you're far more likely to hurt yourself. You're also much more likely to be targeted by pickpockets and make other passengers feel intimidated. Our staff will do their best to help you but when you party this year, please help yourself and take it easy."
Posters have been put up on trains and at stations in time for Christmas to encourage people to drink responsibly.
Underneath a cartoon of a passenger asleep in a luggage rack, spilling a drink on to a passenger's head, the slogan reads: "DO pass on some festive cheer at Christmastide etc. DON'T pass out drooling on your neighbour's shoulder."
And underneath a picture of a passenger ice skating, a slogan reads: "DON'T let inclement weather get you down. DO take extra care when it's wet or icy."
The posters are the latest in a series of humorous train and station adverts encouraging passengers to be more careful on the railway and to be more considerate of one another.
The campaign's frontman Edwin Tickett Esq (Ed Tickett) has been out at St Pancras and King's Cross stations handing out copies of 'his' Modern Day Guide to Train Etiquette.
He said: "Come on, chaps! My job is to make sure you don't get too tight this Christmas and hurt yourself or annoy others. It's really that simple."
ends
Editor's' notes
1. Passengers injured in which alcohol is a factor: 2009/10: 11; 2010/11: 16; 2011/12: 10; 2012/13: 21; 2013/14 (to date): 9
About half of accidents happen on station platforms, and about a third on stairs or escalators.
2. A humorous series of train and station adverts entitled 'The Modern Day Guide to Train Etiquette' features important safety messages about walking on stairs (not running and falling) and arriving in good time to catch the train ("Do your sprinting somewhere else," says one of the posters, showing a cartoon character limbering up on a running track, stopwatch in hand).
The latest series of posters encourages people not to drink too much. You can read about the original launch of the campaign here:
(See news release http://www.firstcapitalconnect.co.uk/about-us/media-centre/news/2013/first-capital-connect-launches-modern-day-guide-train-etiquette/)
You can find out more about the campaign here: http://www.firstcapitalconnect.co.uk/safety.
About First Capital Connect
First Capital Connect operates trains from London to Bedford, Brighton, Wimbledon and Sutton on the Thameslink route and Peterborough, Cambridge and King's Lynn on the Great Northern route.
Approximately 180,000 people travel with First Capital Connect every weekday – 95,000 on the Thameslink route and 85,000 on the Great Northern route.