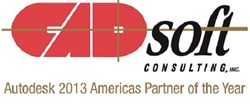 Tempe, AZ (PRWEB) December 02, 2013
CADsoft Consulting Inc., a premier provider of technical design and engineering solutions, and Autodesk 2013 Americas Partner of the Year, today announced they have teamed up with bimSCORE, global experts in implementing Building Information Modeling (BIM) worldwide, to offer interactive sessions at Autodesk University 2013.
Lisa Duncan, Principal of CADsoft Consulting and Dr. Calvin Kam, CEO and founder of bimSCORE, are on hand to introduce bimSCORE, a revolutionary tool that is helping design teams navigate safely through the BIM journey. They will be offering sessions on "Optimizing 2014 BIM Expenditures", Demonstrating ROI in real business terms", "The Weakest Link – and how to avoid becoming one", and "Practical BIM for FM". In addition there will be an opportunity for companies to meet directly with bimSCORE experts to evaluate their projects covering all 10 Dimensions of BIM Maturity. bimSCORE is the "GPS Navigator" for any enterprise or project team charting a course for BIM. bimSCORE intelligently and safely navigates through the misconceptions and realities of the BIM journey.
"We are excited to offer a unique opportunity for attendees to learn about the impact of BIM on workflows, efficiencies, and ultimately, profitability." Stated Lisa Duncan, Principal for CADsoft Consulting. "These sessions allow us to show Project Owner and Operators as well as the AEC and contractor community interested in the BIM ecosystem, proven methods to better define their strategies."
To learn more visit: http://www.cadsoft-consult.com.
About CADsoft Consulting
CADsoft Consulting's national team of consultants helps clients pursue innovative concepts for 3D digital design, Building Information Modeling (BIM), Project Lifecycle Management (PLM), Leadership in Energy and Environmental Design (LEED), and 3D design visualization. With over 23 years of industry, business, and technical expertise, CADsoft Consulting's unique services has been sought after by an impressive list of architectural firms, engineering companies, manufacturing, government agencies, and academic institutions. CADsoft Consulting is an Autodesk Gold Partner for architecture, engineering, construction, civil engineering, geospatial, utilities, and academic solutions. In addition, CADsoft is an Autodesk Authorized Training (ATC) and Certification Center. For more information, please visit our website: http://www.cadsoft-consult.com.
Autodesk is a registered trademarks or trademarks of Autodesk, Inc., and/or its subsidiaries and/or affiliates in the USA and/or other countries.