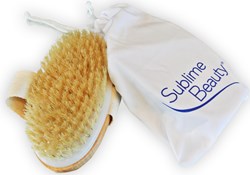 Sublime Beauty® offers its portable Skin Brush on a big holiday discount this week. What a great stocking stuffer!
St. Petersburg, FL (PRWEB) December 03, 2013
Skin Brushing is incredibly simple and powerful. It helps improve skin quality, boosts blood circulation and moves the lymphatic system.
Sublime Beauty® offers its portable Skin Brush on a big discount this week. Chosen as an "Amazon Deal", the price is deeply discounted now. The natural bristled brush with pouch can be tucked into any luggage, purse or gym bag with ease.
The company has a website devoted entirely to Skin Brushing, and purchasers of the brush get a "how to" manual emailed to them after purchase.
"Our long-handled brush is very popular, but customers asked us for something they could take on trips. Keeping the immune system up during travels is important," says Kathy Heshelow, founder of Sublime Beauty®.
Basic Skin Brushing tips for men and women include:
1) Always brush on dry skin (typically before a shower).
2) Start at the feet and work your way up, brushing all except your face and any open wounds.
3) ALWAYS brush towards the heart.
4) Don't share Skin Brushes with others.
Skin Brushing removes the toxins and dead cells from the skin. As we age, the body is less able to throw off dead cells and this can cause problems.
Skin Brushing also helps boost blood circulation, and aids the lymphatic system which has no natural pump. Lymph that collects can cause disease.
The sale continues this week while supplies last.