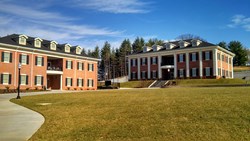 This project was no exception and we enjoyed the opportunity to be a part of such a successful project.
(PRWEB) December 02, 2013
Burleson Construction recently successfully completed the Milligan College Village Dormitories on-time and under-budget for the current fall college semester. The five building residency at the Christian liberal arts college in Northeast Tennessee serves as a valuable addition to the campus and has made a significant impact on student life on campus.
Burleson Constructions broke ground on Milligan Village in summer 2012 and the first students moved in during the recent fall 2013 semester. The dormitories are named Hampton, Jeanes, McAnally, Pardee and Wigginton after the project's top supporters, which include past professors and presidents of the college. Each residence hall houses up to five students and includes private bedrooms situated around a centralized living room and kitchen. The buildings also feature large commons areas.
The five dormitory buildings form a large U-shape to the view of Buffalo Mountain. While the views offer the students an inspirational spot to study and learn, the proximity to the mountain proved demanding for the construction company.
"The project scope was challenging, which required a massive amount of site excavation on a hillside next to campus before work on the buildings could even begin," said Randy Christiansen, Project Manager for Burleson Construction Company. "Throw in one of the wettest years on record during the project and this made for a difficult schedule to keep. Fortunately, we had great contractors and skilled people on our team and we were able to push hard complete the project within the one year timeline before school started."
Last month, on October 25, Burleson Construction was honored to take part in the ceremony of the dedication of the new dormitories. Burleson Construction has built a lasting relationship with Milligan College, with other construction projects such as their convocation center. At the ceremony, the college president, Dr. Bill Greer, honored the company by naming the volleyball court outside the dormitory complex Burleson Court.
"We have had a long standing relationship with Milligan College and are privileged to work with them on many of their construction projects," said Christiansen. "This project was no exception and we enjoyed the opportunity to be a part of such a successful project."
About Burleson Construction Company:
Founded in 1945, Burleson Construction Company, Inc. is a third generation, family owned, commercial and industrial general contractor providing design build construction, project management, and development services for new construction, renovations, and expansions. Burleson also specializes in custom residential construction management. Burleson Construction began in the residential construction industry, but its focus has expanded to include commercial construction as well. The firm serves as a general contractor and construction manager specializing in design/build projects. Although most of its projects are commercial in nature, the firm has continued to construct custom homes. For more information, please visit http://www.burlesonconstruction.com.