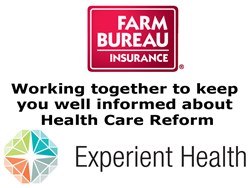 Richmond, VA (PRWEB) December 02, 2013
On average, more than 100,000 children are adopted annually in the United States, Experient Health wrote in its latest post in a Blog series on health care reform, insurance options and healthy living.
Adopting a child can cost anywhere between almost nothing and more than $40,000.
"While no one can truly put a price on having a child, the cost of adoption can be difficult to overcome," Experient Health wrote. Experient Health is the health insurance arm of the Virginia Farm Bureau, headquartered in Richmond, Va. "Some employers offer adoption assistance as a voluntary benefit to help you afford the adoption process.
Adoption assistance benefits can include advice and help with paperwork, time off while bringing the child home, reimbursement for adoption-related costs or other types of assistance.
"Employers that offer adoption assistance benefits understand the importance of supporting their employees who choose to adopt," Experient Health wrote. "Employers typically design their adoption assistance benefits similarly to the benefits they provide for new biological parents, particularly regarding parental leave policies."
Adoption assistance benefits come in many forms, but the benefits can be generally categorized into information resources, financial assistance and parental leave.
"The adoption process can be fraught with complicated rules, processes and paperwork," according to Experient Health. "Information resources from your employer can help you navigate the adoption process. This assistance may include access to an adoption specialist who can answer questions or provide special support for more difficult adoption situations. Other resources may include recommendations for licensed adoption agencies, support groups and organizations."
Financial assistance can help cover adoption expenses like public or private agency fees, court costs, legal fees, foreign adoption fees, home study charges, medical costs, temporary foster care charges, transportation and traveling costs, pregnancy costs for a birth mother and counseling fees associated with child placement and transition.
Financial assistance for adoption could be provided in the form of a single payment to assist with the adoption—usually an amount between $1,000 and $15,000. Assistance might also be provided through reimbursement for adoption-related fees and expenses.
According to the Family and Medical Leave Act (FMLA), companies with 50 or more employees are required to provide both mothers and fathers up to 12 weeks of unpaid leave for the birth or adoption of a child.
Companies that offer adoption assistance benefits may offer additional parental leave, or they might provide paid parental leave or a combination of paid and unpaid time off.
For more information on adoption assistance benefits, follow the Experient Health Blog.
ABOUT EXPERIENT HEALTH:
For years, Experient Health, a Virginia Farm Bureau company, has helped people find the right insurance coverage and get the most for their health care dollars. The Richmond, Va.-based group is dedicated to providing high quality health insurance options to customers in Virginia, Maryland, and Washington DC. As a result, its consultants, with an average of more than 20 years' experience, are intimately familiar with the states' provider networks, products and regulations.
Representing the top national insurance carriers, Experient Health provides customers with multiple policy options designed to meet wellness needs and financial requirements.
Experient Health grew out of Virginia Farm Bureau and is a "hometown agency" in that it operates a network of more than 100 offices. However, it boasts the resources and technology of larger firms.
Consultants are available online, via phone and through their offices.
Learn more at http://www.experienthealth.com. Utilize the online health insurance quote calculator or contact a consultant directly at 855.677.6580.