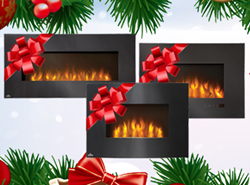 Barrie, Ontario (PRWEB) December 04, 2013
Napoleon is getting in the Christmas spirit by driving consumers to enter their contest for a chance to win a new electric fireplace. Visit their website and Facebook page to complete the sweepstakes competition form for your chance to win 1 of 3 Napoleon electric fireplaces. The contest will run from December 1 to December 31, 2013 allowing one entry per person. If you enter through Napoleon's Facebook page you will have the opportunity to refer a friend to earn more chances to win with every person who enters through your Facebook post.
The grand prize winner will receive an EFL48H Electric Fireplace, boasting a easy wall mount linear shape, and up to 5,000 BTU's. The second and third prize winners will receive EFL32H Electric fireplace they provide great heating and require no maintenace. All products will be delivered to the contest winner's homes. A random draw for the prizes from the internet submission will be done as of January 7, 2014. Winners will then be contacted by email, or telephone to redeem their prize, if winner is unreachable they will have 24 hours to contact Napoleon to redeem their prize.
Napoleon is a family-owned company specializing in high quality fireplaces, gourmet grills and high efficiency furnaces. Napoleon Fireplaces are designed to enhance any lifestyle with their beauty and simplicity. To find out what Napoleon Fireplaces can do for you, visit napoleonfireplaces.com.