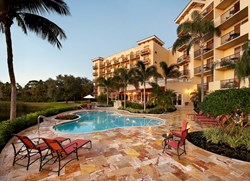 We started looking for charities who are truly making an impact on our community.
Naples, Fla. (PRWEB) December 03, 2013
The Inn at Pelican Bay recently donated more than 100 pieces of furniture to The Shelter for Abused Women & Children and Helps Outreach.
Among the most picturesque boutique hotels in Naples, the inn is currently undergoing renovations to its guest rooms, first-floor patios, lobby and hallways. Gently used couches, sofa chairs, desk chairs and end tables were donated in order to raise awareness of local volunteer opportunities while making room for new décor.
"We knew the furniture could still be enjoyed by families," said Stephen Dorcy, General Manager. "So we started looking for charities who are truly making an impact on our community."
The Shelter for Abused Women & Children helps thousands of women, men, children and their pets each year through its emergency shelter, counseling services, thrift store, transitional living cottages, awareness programs and youth outreaches. Its mission is to lead the community to prevent, protect and prevail over domestic violence through advocacy, empowerment and social change.
Many of the furniture pieces donated by the Inn at Pelican Bay will be used to furnish the shelter's four transitional living cottages. Residents of this extended program are encouraged to take the furniture with them at the end of their stay when they move into the community. Additional items will be offered in the Options Thrift Shoppe, where residents of the emergency shelter can select clothing and personal items free of charge.
"The people living in our shelter have usually left their homes in a hurry. They're coming from emergency rooms, or law enforcement is bringing them," said Linda Oberhaus, Executive Director of The Shelter for Abused Women & Children. "We work to address their physical needs as well as emotional ones."
Helps Outreach distributes food, clothing, furniture and housewares to more than 2,900 people in need through its thrift shop and referral services each month. Individuals and families are referred by word of mouth and through other local charities, such as The Salvation Army, St. Vincent DePaul Society, Catholic Charities, St. Mattews House and Red Cross. Helps Outreach plans to distribute the furniture donation to struggling families throughout the Naples area.
"Everyone needs love, respect, dignity, compassion and an overall sense that they matter, especially as they're going through tough times," said Joe Velentini, Co-Founder of Helps Outreach.
Both nonprofits stress the importance of community involvement to their respective causes.
"The shelter can't do it alone. It takes a whole community to end domestic violence," said Linda Oberhaus. "There are so many ways people can help [the shelter]."
"We always need food, funds and volunteers. We have a waiting list of people for additional sofa beds, microwaves, lamps, wall hangings, coffee makers and blankets," said Joe Velentini. "We are so grateful for help."
"We want to go beyond being one of the most beloved boutique hotels in Naples, Florida," said Stephen Dorcy. "We hope this simple act will encourage others in our community to learn more about these charities' volunteer opportunities."