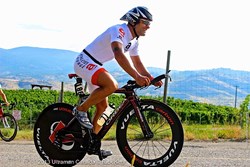 "Living Fuel is pleased to be Christian's super nutrition sponsor and Fuel his body with Maximum Human Nutrition." KC Craichy, Founder & CEO, Living Fuel
Orlando, FL (PRWEB) December 10, 2013
Christian Isakson is one of the top extreme athletes in the world. He just finished in 4th place in the men's race, the same position he finished in September's Ultraman Canada.
"What an amazing race," Isakson said. "I'm so privileged to be able to compete with such a great group of athletes."
The Ultraman World Championships is an invitation-only, 3-day event that covers a total distance of 320 miles. Isakson had to complete a 6.2-mile open ocean swim, a 261.4-mile cross country bike ride, and a 52.4-mile ultra-marathon run. Ultraman World describes the annual event as "an athletic odyssey of personal rediscovery."
Christian Isakson has received a lot of media attention about his training and competing in Ultraman World Championships, including interviews with Endurance Planet and race coverage from Lava Magazine.
Living Fuel Founder & CEO KC Craichy said he is proud of Isakson's efforts at both Ultraman events.
"Christian is a phenomenal athlete," Craichy said. "Living Fuel is pleased to be his super nutrition sponsor and Fuel his body with Maximum Human Nutrition."
Isakson says LivingFuel products helped fuel him to success during training and competition.
"Not only in my daily training but during long events, Living Fuel fills gaps and brings up my body level," Isakson said. "Recovery is rest, but so much better with solid, clean nutrition. Repairing damage is key with hard races and training. Living Fuel is like a Doctor going inside and fixing me from the inside out."
Isakson used several LivingFuel Maximum Human Nutrition products during the Ultraman World Championships, including LivingFuel SuperBerry Ultimate, SuperGreens, LivingProtein, SuperEssentials Omega, SuperEssentials Aminos, InsportRecovery and CocoChia Snack Mix and CocoChia Sustained Energy Bars.
About KC and Monica Craichy
KC Craichy is the bestselling author of Super Health: 7 Golden Keys to Unlock Lifelong Vitality and The Super Health Diet: The Last Diet You Will Ever Need! KC is also the Founder and CEO of Living Fuel, Inc.—The Leader in Superfood Nutrition. He is a health advocate, researcher, and recognized expert on natural health and performance nutrition. His extensive study of leading-edge health research and collaborative work with top medical and nutritional practitioners and researchers to solve his wife Monica's health problems—anxiety, depression, and suicidal thoughts—along with the grace of God, led him to the answers for Monica's healing and to the founding of Living Fuel, Inc. As a result of overcoming this health crisis, KC and Monica have helped numerous people become overcomers in their own health situations. Together, they are now cohosts of the popular Internet TV program called LivingFuelTV.
KC is committed to changing lives through multimedia, super health lifestyle education combined with super healthy, high impact superfoods. He also serves on the Nutrition Advisory Board for Titleist Performance Institute and served on the Clinical Nutrition Review Board (the certifying body of the International and American Association of Clinical Nutrition) for seven years. A frequent natural health and performance nutrition guest on various TV and radio programs as well as a frequent contributor to national magazines and blogs, KC lives in Orlando, Florida, with his wife, Monica, and their five children.