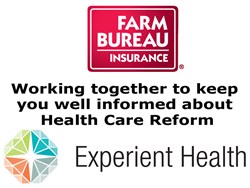 Richmond, Va. (PRWEB) December 03, 2013
Experient Health, the health insurance arm of the Virginia Farm Bureau, launched a new blog series this week to help the community better understand insurance benefits. In the first post of the "Know Your Benefits" series, Experient Health highlights obtaining vision insurance.
"Vision coverage is similar to regular medical insurance and is one of the voluntary benefit options commonly offered through employers," Experient Health wrote. "When you have vision insurance, you pay a premium and the insurance company will cover part or all of the cost for vision care."
Vision coverage is available in two basic types of plans - a vision benefits plan that is regular insurance coverage and a discount vision plan where the insured can choose to reduce vision costs without regular insurance coverage and pay for all vision care, but at a reduced rate.
Why consider vision insurance?
According to Gallup, approximately 70 percent of adult Americans report wearing some type of corrective lenses.
Regular eye exams can identify overall health concerns, such as diabetes, high cholesterol and risk of heart disease or stroke before you are even aware of any symptoms.
"Vision insurance generally provides coverage for basic care and eyewear," Experient Health wrote. "Most vision plans will also cover annual or biannual eye exams, including dilation, eyeglass frames, eyeglass lenses and contact lenses. Some plans may also cover other services, including laser vision care programs or even prescription protective eyewear."
Vision plans typically do not cover replacements for frames, eyeglass lenses or contact lenses, medical or surgical treatment, vision training or experimental vision services or treatments.
With vision coverage, the insured pays a premium or membership fee. Then, when you visit an eye doctor or purchase corrective lenses, the amount due is a reduced amount for services.
Eye exams will typically be covered at 100 percent or have a small co-pay, according to Experient Health.
Corrective lenses are usually covered with a copay or a maximum allotted amount per year.
The Affordable Care Act (ACA), also called health care reform, does affect some vision benefit plans.
"If your vision coverage falls under the new ACA rules, then the vision plan will have to cover adult children up to age 26, and lifetime and annual limits on coverage will be eliminated," according to Experient Health. "If the vision plan is of limited scope, then it is considered an excepted benefit and does not have to follow the new rules. Limited-scope plans include vision benefits provided under a policy separate from regular medical benefits, or vision benefits that are not an "integral part" of the group health plan."
Under the ACA, pediatric vision care is considered an essential health benefit. This means that vision coverage must be available for children under the age of 19. The ACA does not consider vision care an essential health benefit for adults, so vision care is not mandatory for individuals 19 years and older. Unlike medical insurance, there will be no penalty for not purchasing vision insurance. For further information on the ACA and vision insurance, visit http://www.dol.gov/ebsa/faqs/faq-aca2.html.
ABOUT EXPERIENT HEALTH:
For years, Experient Health, a Virginia Farm Bureau company, has helped people find the right insurance coverage and get the most for their health care dollars. The Richmond, Va.-based group is dedicated to providing high quality health insurance options to customers in Virginia, Maryland, and Washington DC. As a result, its consultants, with an average of more than 20 years experience, are intimately familiar with the states' provider networks, products and regulations.
Representing the top national insurance carriers, Experient Health provides customers with multiple policy options designed to meet wellness needs and financial requirements.
Experient Health grew out of Virginia Farm Bureau and is a "hometown agency" in that it operates a network of more than 100 offices. However, it boasts the resources and technology of larger firms.
Consultants are available online, via phone and through their offices.
Learn more at http://www.experienthealth.com, utilize the online health insurance quote calculator or contact a consultant directly at 855.677.6580.