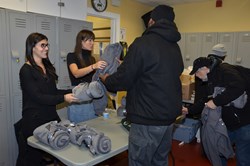 Hoboken, NJ (PRWEB) December 02, 2013
CarePoint Health - Bayonne Medical Center, Christ Hospital and Hoboken University Medical Center is spreading the holiday spirit throughout Hudson County. CarePoint Health provided a Thanksgiving dinner at The Hoboken Shelter in Hoboken, NJ. Over one hundred residents enjoyed a delicious thanksgiving dinner including turkey with all of the trimmings. Additionally, attendees received sweatshirts, blankets and hats compliments of CarePoint Health. For additional information please call the public relations department at 201-418-2335.
About CarePoint Health:
CarePoint Health is bringing quality, patient-focused healthcare to Hudson County. Combining the resources of three area hospitals — Bayonne Medical Center, Christ Hospital in Jersey City, and Hoboken University Medical Center — CarePoint Health is a new approach to delivering healthcare that puts the patient front and center. With a focus on preventive medicine, disease management and healthcare education, CarePoint Health provides patients with 360 degrees of coordinated care, delivered by the area's best and most dedicated doctors, nurses, hospitals and medical staff.