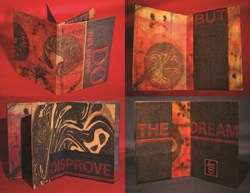 PD Packard's artistic process combines a sense of precision with a sense of freedom, creating truly unique and thought provoking artwork.
Brooklyn, New York (PRWEB) December 03, 2013
PD Packard's artistic process has been described as a sense of precision combined with a sense of freedom, creating truly unique and thought provoking artwork. Four highly interesting books created by Packard are included this month in the RiTUAL.READING ROOM: single-sheet book show held at 110 Church Gallery. The gallery is located in the historic old city of Philadelphia's original and vibrant art district.
As a writer of prose, Packard describes her method of inspiration as such, "It begins with a single word that my intuition presents before me. I demand of me to truly understand the practical and metaphysical meaning of the word. This leads to another word, then another word, and then the formation of prose. To the best of my ability I become silent, listening and trusting my inner response. I am layered in methodical thought and committed to express the principles of unconditional Love, not conditional romance."
Packard creates pages from her prose mixing methods of printmaking, embossing, and Japanese decorative papermaking techniques, and then binds them into various traditional book forms.
The RiTUAL book show promises to surround the visitors by stories, engulf them by pages, to be dazzled with books everywhere on shelves, tables, and hanging from the ceiling. The show runs from December 6, 2013 – January 25, 2014. The artist reception is Saturday, December 14, 2013 from 3-6 pm.
RiTUAL.READING ROOM: single-sheet book show
110 CHURCH gallery
110 Church Street
Philadelphia PA
Artist Reception:
Saturday, December 14, 2013, 3-6 pm
Exhibition:
December 6, 2013 – January 25, 2014