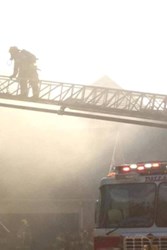 "The truth is you have a BIGGER right - and that is to be HAPPY." - Connie Podesta
Dallas, TX (PRWEB) December 02, 2013
In a world that, too often, seems spinning faster than most people can keep up, chaos and crisis seem inevitable. How do people find balance? Joy? Happiness? Inspiration? Footing—when everything seems to be coming at them at once? Motivational Keynote Speaker and Expert in the Psychology of Human Behavior, Connie Podesta wrestled with those questions herself when a recent house fire destroyed the interior of her house and claimed more than 90% of her and her family's belongings.
"It's surreal, to be sure, when you are facing a tragedy or crisis of that magnitude," shared Podesta. "One minute you're sitting reading, and the next you're watching everything you own go up in flames. But having weathered many crises, some bigger and way more painful, I knew that while we may have a right at times to feel angry, or sad, or frustrated – we also have a right to be happy, resilient, and grateful. Things happen. Life happens. But ultimately the choice to pull ourselves from the crisis and fight for our own well-being and happiness is ultimately up to us. In telling my story, I discovered how very many people needed to hear that message in today's world. So I began to share it. The results? The impact? The response? Remarkable. Triumphant. Spirit-affirming."
As a Motivational Keynote Speaker, Connie Podesta speaks to more than 100,000 people per year. One thing she has found in the wake of recent events is that this message, "How to Survive a Crisis," strikes a chord across all industries, and in the hearts of people all over the globe, regardless of position. In it she shares what it takes to not only survive tragedy, hurt, anger, crisis, and disappointment--but what it takes to truly find (and fight for) happiness, regardless of what life happens to throw your way. From business professionals, to leaders, to salespeople, and team members, to stay-at-home parents, retirees, and even children -- crisis is an equal-opportunity force to be reckoned with.
For people who have ever felt out of control, hurt or angry because of circumstances, or experienced that 'rug-pulled-out-from under-and- can't-catch-their-breath' type fear or anxiety, Connie's new video, keynote topic choice and blog post on this subject has become a life changer.
"For many people," shares Podesta, "believing that they even have a right to experience happiness—even if just for a moment or two–when the world is falling apart is tough. Too often they fight for their right to stay sad or angry. As though those emotions are a penance they must pay for the rest of their life. And then something heartbreaking happens—they literally become an angry person or a sad person instead of a person who is just experiencing those emotions. The emotions take over their personality and change who they are. They believe that even experiencing tiny moments of happiness belittles the seriousness of the crisis and the effect it has had on their life. They focus on their right to be angry or sad. But the truth is they have a bigger right, and responsibility to themselves and those around them. The right to be happy. And placing their focus there on what counts, often makes all the difference in the world. Not just for that moment, but often, for their whole lives."
Connie Podesta's Stand Out Strategies are empowering organizations and leadership teams to let go of old ideas and traditionally old habits and training trends and unlock their true potential for building long-term referral business in a world that requires a much higher standard of service.
For more information on Podesta's schedule and availability or to learn more about her captivating new eBook, StandOut Leadership, contact her team today at 972-596-5501, via email at info(at)conniepodesta(dot)com. You can visit her website online at http://www.conniepodesta.com