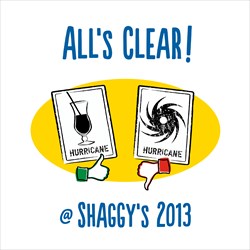 'As long as we don't have to tap into our flood insurance fund to repair storm damages, we'll be happy to use the money to throw a big party for our customers, and to help those who weren't as fortunate as we were.' - Ron Ladner
(PRWEB) December 02, 2013
November 30 officially marks the end of hurricane season in the Gulf, and Shaggy's restaurants will celebrate a relatively calm storm season, with an "All's Clear" Party at all three restaurant locations, on Thursday, December 5.
"It's a big deal for us to get through hurricane season," says Ron Ladner, Shaggy's founder. "If you think about it, all three of our waterfront locations are on sites that were previously home to thriving businesses that were destroyed by a hurricane (Pass Christian Bait and Seafood Shop destroyed by Katrina, Ruby Tuesdays on Biloxi Beach destroyed by Katrina, and Banana Bob's on Pensacola Beach destroyed by Ivan), so we clearly understand the danger. We can't get flood insurance on our Pass Christian location, so Nov 30 is obviously a big milestone for us."
"As we got closer to the party date, we considered the tragedy in the Philippines and decided that a celebration would not be justified unless we turned it into a relief effort," Ladner said. "So we decided to make this a fundraiser for Typhoon victims in the Philippines. We will continue the party as planned, but this year, we are producing a special edition "All's Clear" t-shirt, and all proceeds from the sale of the shirts will go to the Red Cross Philippines Relief Aid."
The party is Thursday December 5, from 5-9 p.m., at all three locations--Pass Christian Harbor, Biloxi Beach and Pensacola Beach. The festivities will include live music, free Hurricane drinks and $1 draft beer.
"Last season wasn't one to celebrate, we got smacked pretty hard by Issac and had to close 2 locations," says Khara Whitman, Shaggy's Director of Restaurants. "We had a sailboat grounded at our entrance in Pass Christian that caused some issues, we had to close down for a few days and had several thousand dollars in damages. We're keeping our fingers crossed that going forward we'll be able to throw an "All's Clear" party every year."
"As long as we don't have to tap into our flood insurance fund to repair storm damages, we'll be happy to use the money to throw a big party for our customers, and to help those who weren't as fortunate as we were," adds Ladner.