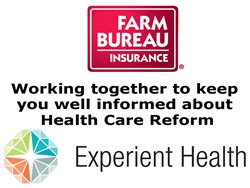 Richmond, VA (PRWEB) December 04, 2013
Aside from protecting smiles, dental care ensures good oral and overall health. Several studies suggest that oral diseases, such as periodontitis (gum disease), can affect other areas of the body—including your heart.
That's why Experient Health, in its latest blog post in the "Know Your Benefits" series, helps explain why understanding and choosing dental coverage will help protect familise from the high cost of dental disease and surgery.
Experient Health is the health insurance arm of the Virginia Farm Bureau and is headquartered in Richmond, Va. Its various blog series aim to help the public better understand health care reform, their benefits and health insurance.
"Dental coverage is similar to regular medical insurance and is one of the voluntary benefit options commonly offered through employers,"Experient Health wrote in its latest post. "When you have dental insurance, you pay a premium and then your insurance will cover part or all of the cost for many dental services."
Like medical insurance, dental coverage is offered in several types of plans.
A dental health maintenance organization (DHMO) includes coverage that for when patients visit dentists who are in-network with the insurance plan.
A dental preferred provider organization (DPPO) includes coverage with in- or out-of-network dental care providers, but with a lower cost when applied to an in-network dentist.
A dental indemnity plan provides coverage for any dentist and a discount dental plan helps reduce dental costs without regular insurance coverage. With the discount plan, families pay for all dental care at an agreed-upon discounted rate.
"Professional dental care can diagnose or help prevent common dental problems including toothache, inflamed gums, tooth decay, bad breath and dry mouth,"Experient Health wrote, explaining why people should consider dental care coverage.
"If conditions like these remain untreated, they can worsen into painful and expensive problems such as gum disease or even tooth loss. According to the American Dental Association, more than 16 million children in the United States suffer from untreated tooth decay, which is the most common chronic childhood disease. Regular dental exams can not only treat dental problems but can also identify other serious health concerns, including some types of cancer."
Dental coverage focuses on preventive and diagnostic procedures in an effort to avoid more expensive services associated with dental disease and surgery.
Most plans will only cover two cleanings and exams per year. For more complicated procedures or surgeries, coverage is often limited to a maximum dollar amount, such as $1,500 per year. Age is yet another factor that determines coverage. For example, fluoride treatments are typically covered for children, but not adults. Cosmetic procedures, such as teeth-whitening, are rarely covered.
Dental coverage works similarly to a medical insurance plan. The insured pays premiums, and then the insurance will cover dental costs according to the benefits listed in the plan.
The routine exams and cleanings are usually covered at 100 percent, but other services are often subject to a deductible and copay.
The deductible is the amount you must pay before your insurance will pay. After you meet your deductible, you may be responsible for a copayment or coinsurance, which is the percentage of the treatment cost that you pay.
Under the Affordable Care Act (ACA), dental services are an essential health benefit for children under the age of 19, although individual states can choose to extend the age limit beyond this baseline. Declaring pediatric dental care an essential health benefit means that, beginning in 2014, all non-grandfathered medical health plans must offer dental benefits for children unless certified stand-alone coverage is available. Non-medically necessary orthodontia is not included in the essential health benefits definition.
The essential health benefit status for dental coverage does not apply to adults. In addition, unlike medical insurance, you do not have to obtain dental coverage to avoid penalties.
About Experient Health:
For years, Experient Health, a Virginia Farm Bureau company, has helped people find the right insurance coverage and get the most for their health care dollars. The Richmond, Va.-based group is dedicated to providing high quality health insurance options to customers in Virginia, Maryland, and Washington DC. As a result, its consultants, with an average of more than 20 years experience, are intimately familiar with the states' provider networks, products and regulations.
Representing the top national insurance carriers, Experient Health provides customers with multiple policy options designed to meet wellness needs and financial requirements.
Experient Health grew out of Virginia Farm Bureau and is a "hometown agency" in that it operates a network of more than 100 offices. However, it boasts the resources and technology of larger firms.
Consultants are available online, via phone and through their offices.
Learn more at http://www.experienthealth.com, utilize the online health insurance quote calculator or contact a consultant directly at 855.677.6580.