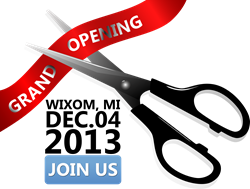 "We are happy we could add Bio-Identical Hormone Replacement Therapy and Thermography to their already-wonderful list of services."
Rochester Hills, MI (PRWEB) December 03, 2013
Anti-aging treatment, hormone replacement, breast thermography and a variety of other services will be more accessible to Michigan residents this week, when PSI Medical opens a third office. Doors to the new office, located in Wixom, will open on December 4, 2013. The Grand Opening will be celebrated with an Open House party, set for 6-8 pm at 28345 Beck Road, Suite 311.
"I am very excited to offer a new location to my patients," said Dr. Robert Grafton, who started the practice. "Some of them drive in from as far as Novi. It's nice to be able to show my appreciation by opening a clinic closer to them."
The Wixom office will be PSI Medical's third in Michigan. The other offices are located in Rochester Hills and Grand Rapids. The new office in Wixom will offer extended office hours and new services, including breast thermography, the PK Protocol IV and a new skin care line.
In addition to the Grand Opening celebration in Wixom, PSI Medical is also hosting an Open House at their main Rochester Hills office (555 Barclay Circle, Suite 170) on December 12 from 6-8pm. The fun and educational evening will include a fascinating anti-aging seminar, thermography demonstration, mini-facials and more.
Along with opening their new office in Wixom, PSI Medical is very appreciative of their Grand Rapids satellite location. "We are thrilled about our partnership with Holistic Care Approach in Grand Rapids," said Grafton. "We are happy we could add Bio-Identical Hormone Replacement Therapy and Thermography to their already-wonderful list of services."
About PSI Medical
PSI Medical is a medical rejuvenation clinic that specializes in anti-aging, plastic surgery and hormone replacement therapy. PSI offers solutions for acne problems that are 90% effective, as well as skin care products, chemical peels, facials, Botox®, Radiesse® and Thermage®. For the Holistic-minded, PSI offers infrared sauna sessions, hyperbaric oxygen therapy sessions, thermography and more.
About Dr. Robert Grafton
Dr. Robert Grafton is an anti-aging specialist and plastic surgeon. He has practiced Hormone Replacement for over 10 years, treating thousands of patients who have received or contemplated cosmetic surgery. A diplomate of the Canadian Board of Plastic and Reconstructive Surgery, Dr. Grafton has practiced plastic and reconstructive surgery in Michigan since 1993. Dr. Grafton earned his medical degree from the University of Saskatchewan in 1979.
28345 Beck Road
Suite 311
Wixom, MI 48393
Phone: (248) 869-0020
For more information or to schedule an interview with Dr. Robert Grafton, contact Lulu Rubens at 248-591-4314 or email LRubens(at)trafficdigitalagency(dot)com.