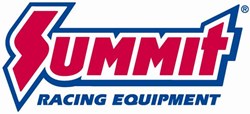 Tallmadge, OH (PRWEB) December 03, 2013
A RideTech TowPro Automatic Load Leveling Air Spring System will maximize a pickup's safe load carrying capacity, stability, ride quality, and braking effectiveness. The system features air springs that fit between a truck's leaf springs and frame, supplying extra load support when needed. The compressor has an auto-leveling valve similar to the ones used on semi-trucks. When you add a load to the truck bed or add a trailer, the air compressor will automatically fill the air springs to maintain proper ride height. That means improved steering control and braking, reduced tire wear, and a more comfortable ride.
The TowPro Automatic Load Leveling Air Spring System includes the air springs, application-specific Fox monotube shocks, the compressor, and all necessary wiring and lines.
APPLICATIONS

1988-2012 Chevy/GMC full size pickups
• 1997-2011 F-Series pickup

1994-2012 Dodge/Ram pickup
Summit Racing Equipment
http://www.SummitRacing.com
1-800-230-3030