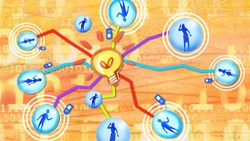 John Connor and his team at Flying Horse Media were the first agency where our story had not only been understood intellectually but also emotionally.
Cherry Hill, NJ (PRWEB) December 04, 2013
Multimedia story shop, Flying Horse Media, has partnered with Swiss-based startup Circular Society to create a three minute video fable that helps position the central concept and mission of this social enterprise. The video premiered in Brussels at the European Roundtable of Industrialists' "Jumping the Skills Gap Symposium" during a presentation by Carsten Sudhoff, Circular Society's founder and CEO, and former Chief Human Resources Officer for the World Economic Forum. To view the video, visit http://flyinghorsemedia.com.
Carsten Sudhoff contacted Flying Horse Media to create an engaging story and video that would provide an instant introduction to his new organization's ideals. John Connor, Flying Horse Media president, thought of using a fable for the video to create an immediate impact on the viewer's emotions. "John Connor and his team were the first agency where our story had not only been understood intellectually but also emotionally," Sudhoff said. "This was different than the agencies we tried before and it was the necessary game changer that would allow Circular Society to speak to the hearts of many," Sudhoff continued.
Circular Society, a breakthrough leadership forum and consultancy in Switzerland, works with individuals and organizations worldwide to inspire a unique approach to organizational and societal transformation. Its mission is to reach new levels of sustainable performance through integrating responsibility, profit making and human satisfaction. "Their mission is complex and involves many facets of the business, academia and technology worlds," Connor stated. "This video aimed at simplifying the story and allowing viewers to feel it as well as hear it, thereby energizing Carsten's vision for the forum," Connor added.
Flying Horse Media is a tightly knit band of filmmakers, animators, illustrators, graphic artists, gamers, writers, and marketing communicators who harness the awesome power of storytelling to build and energize compelling media campaigns. Their work focuses crucial ideas and carries them home to viewers' minds in support of their clients' PR, marketing, training, internal, and other communications efforts. John Connor and his team bring over 25 years of experience in storytelling through film/video, graphics, illustration, photography, copy, scripts, and speeches.