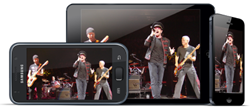 Arlington, VA (PRWEB) December 04, 2013
Each media streaming solution includes a vast but simple video library, customizable video players to conform to any web space, a built in ad manager, video analytics, and live transcoding and recording.
WebNet Hosting's new online video platform is designed to make it easy for customers to set up and broadcast their live stream to a worldwide audience. With data centers located across the globe, a global CDN service and a 24/7 support staff, the streaming media solution offers global accessibility and a reliable, fast, secure stream - equipped with easy-to-use management tools.
"Online video is exploding and companies are looking for advanced streaming services for them to effectively stream high quality videos," states PJ Taei, President of WebNet Hosting, "We now offer a complete streaming media solution to the companies wherein they can also stream their video and host their media servers, too."
Live and on demand video broadcasting is used in a number of industries: From live sports events and concerts, to boardroom meetings, online lectures, and live church sermons - video streaming is becoming the number one way for organizations and interest groups to reach their target audience and then some.
Since 2002, WebNet Hosting has empowered over 10,000 customers. As a leading global hosting provider, offering a top media streaming hosting solution is a priority for WebNet in 2014. In addition to video streaming solutions like Wowza media servers, WebNet offers global reseller hosting plans, fully-managed cloud VPS and dedicated server hosting solutions, keeping an emphasis on comprehensive hosting with e-commerce and media streaming packages.