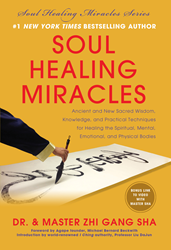 San Francisco, CA (PRWEB) December 03, 2013
New video testimony shows Edward Anthony's personal story about how he searched for spiritual guidance his entire life from other gurus, shamans, and masters, till he experienced soul nourishment with the teachings of Dr. and Master Zhi Gang Sha. After meeting Dr. and Master Sha at a San Francisco event a month ago, he knew that Master Sha was different than everyone else he had ever sought life guidance from. "I've listened, I've heard and I felt the soul enlightenment that Master Sha offers is greater than those who are offered by those who think they know," says Edward Anthony at a recent Tao I & II Retreat in Colorado. "This is an abundance beyond, this is THE Master. He is here. Master Sha has brought something that I've never experienced before in this lifetime," Anthony adds. "I love Master Sha, humanity, and all that he's done for us." Hear Edward Anthony's personal testimony telling a live audience how his life was transformed with Soul Enlightenment blessings from Dr. and Master Sha: http://youtu.be/9EaOpdFdCg0
For 10 years, Dr. and Master Sha has been a servant of humanity working tirelessly to help earth's inhabitants further their spiritual journeys by teaching them to serve others. The Divine has chosen Master Sha to bestow Divine Orders for Soul Enlightenment for those seeking spiritual awakening. Soul Enlightenment has always been a privilege for spiritual masters who spent decades meditating and doing spiritual practices in remote and secluded locations, with and without high level spiritual teachers. Now, the Divine has given Master Sha the power help millions of people achieve spiritual greatness, longevity, rejuvenation and the secrets to a more profound life with this powerful order.
When Master Sha uplifts individuals with Soul Enlightenment, they will experience:
# Profound Inner Peace
# More Joy
# Gratitude for Everything in Life
# Clearer Thinking
# Astounding Creativity
# Great Inspiration and Brilliant Ideas
# Make Better Decisions
# Less Daily Stress
# More Fulfilling Relationships -- family, business, friends, pets
# Stronger Financial Foundation
# More Focus and Clarity about Life's Purpose
# More Personal Spiritual Journey
Master Zhi Gang Sha is the soul leader, a world-renowned master healer, and a divine servant. He is the founder of Soul Mind Body Medicine. He was trained as a conventional medical doctor and a doctor of traditional Chinese medicine. The founder of the Institute of Soul Healing and Enlightenment™ and the Love Peace Harmony Movement™, Master Sha is a grandmaster of many ancient disciplines, including tai chi, qigong, feng shui, and the I Ching. Master Sha is also an expert in the most advanced cellular healing science now occurring in China. In the West, he is involved in breakthrough research on the effects of spirit on the human system. Dr. Sha was named Qigong Master of the Year at the Fifth World Congress on Qigong. In 2006, he was honored with the prestigious Martin Luther King, Jr. Commemorative Commission Award for his humanitarian efforts. Master Sha was featured on PBS for his authoritative book series , Soul Power.
Dr. and Master Zhi Gang Sha has more than 100,000 followers on Facebook and more than 250,000 devotees worldwide. There are more than 1,000 Soul Healing miracle videos posted on Dr. and Master Sha's YouTube Channel (http://www.youtube.com/zhigangsha), with over 1.1 million views. Everyday people all over the world are experiencing personal Soul Healing miracles and sharing their video testimonials so that others can benefit from these powerful and life-changing results. His blog, http://mysoulhealingmiracles.blogspot.com/ is read by thousands worldwide and legions of people attend his daily LiveStream web TV events at https://www.drsha.com/master-shas-live-events/.
Master Sha is author of more than 10 books published by Simon & Schuster (Atria Imprint) and his newest book, Soul Healing Miracles (BenBella) contains sacred Chinese calligraphy scrolls created by Master Sha which carry powerful blessings from The Source bringing the power of soul healing miracles to transform the lives of all who connect with the scrolls. Dr. Sha's most recent New York Times bestselling book, Divine Healing Hands (September, 2012) topped national bestseller lists within 24 hours of publication and his 2011 book, Tao Song & Tao Dance was also a New York Times bestseller. All of Dr. Sha's Soul Power books, DVDs and CDs, reveal soul secrets, wisdom, knowledge and practical techniques to transform every aspect of life, and are bestsellers throughout the world. Visit Dr. Sha on his website http://www.DrSha.com and receive free teachings and soul healings via daily live webcasts, teleconferences and in-person at events held throughout the world. You can also "Like" Master Sha's page at http://www.facebook.com/DrandMasterSha to receive updates on events, workshops, free services and more.
For more information about Master Sha, the Soul Enlightenment opportunity or his new book, Soul Healing Miracles, visit: http://www.DrSha.com.
To interview Master Zhi Gang Sha, please contact, Darcie Rowan, Darcie(at)DarcieRowanPR(dot)com.