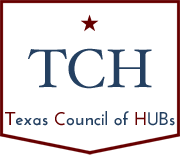 Promoting a Future of Historically Underutilized Business in Texas
Austin, TX (PRWEB) December 03, 2013
The Texas Council of Historically Underutilized Businesses (TCH) a newly formed nonprofit focused on helping historically underutilized businesses (HUBs) in navigating the procurement process to obtain government contracts with Texas agencies and quasi-agencies will hold its first seminar from 1 to 3 p.m. on Thursday, December 12 at the Texas State Capitol Auditorium.
This seminar, "Strategies for Success in Competing for Texas Public Sector Business as a HUB", is offered free to members and non-member. Speakers for the seminar include: Hon. State Senator Royce West, Paul Gibson, statewide HUB program manager, Texas Comptroller's Office; Dan Contreras, former director of ICT Cooperative Contracts at TX Dept. of Information Resources and deputy executive director of TX Building & Procurement Commission, Jim Brennan, Director, TX Coalition of Veteran Organizations, Glenn Hagler, TX Dept. of Transportation HUB Director, Robert Hall, TX Health & Human Services Commission HUB director; and Ivan Burkett, Executive Chairman of the TCH Board of Directors.
TCH encourages cooperation between HUBs for business development and expansion, to promote ethical and responsible business practices, and to provide leadership and advocacy for HUBs.
Seating is limited, so those planning to attend should RSVP to info(at)txhubcouncil(dot)org with the number in their party attending, or telephone TCH at (512) 368-3915.
###