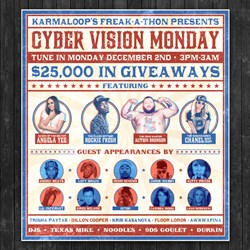 Boston, MA (PRWEB) December 02, 2013
Karmaloop.com, the largest streetwear retailer in the world (with roughly a quarter billion dollars in annual revenue) is back with another boundary-pushing, interactive live streaming event to be broadcast Dec 2nd and dubbed "Cyber Vision". The event will take place on "Cyber Monday", the internet's answer to Black Friday and traditionally the biggest online shopping day of the year. The live event will feature rappers Action Bronson, Chanel West Coast, and Rockie Fresh and slew of taste makers and celebrities interacting with customers live on the air.
"CyberVision" incorporates and builds on the success of last year's "CyberKam" Monday, an eye-popping 24-hour live chat parody of web Cyber Sex Cam services, featuring scantily clad ladies chatting live with Karmaloop customers and giving away free gift codes to the site (with the occasional nip slip thrown in), and the wildly popular "Freakathon" series, a mix of a telethon (but instead of asking for money, Karmaloop gives it away), variety show, comedy performance, game show and live party all rolled into one!
The last Karmaloop Freakathon was the most-watched live stream in the world on the LiveStream.com platform during the time it aired, with over 2.5 million cultural influencers and fashion taste makers tuning in - even more than that day's Fox News stream. It also generated tens of thousands tweets and Instagram posts by viewers interacting in real time with Karmaloop staff and personalities!
Karmaloop CEO Greg Selkoe had this to say about the upcoming must watch event: "Karmaloop is fortunate to have the most tech savvy and fashion forward young people on the planet shopping at our site, and they appreciate and love our willingness to take risks and new approaches to content and commerce, like our live stream programming." He added, "Cyber Vision Monday takes our nuttiness and love of pop-culture to new heights with bigger stars and more risqué hijinks - all while we give away $25,000 in free clothes and huge discounts live on the air! Karmaloop has proven once again why we have become the cultural force we are and why we are much more than just a retailer, but also a community of style and a media hub."
The full Cyber Vision lineup includes rapper Action Bronson, Odd Future super group, MellowHigh (featuring Domo Genesis, Hodgy Beats, and Left Brain), Chanel West Coast of Rob Dyrdek's Fantasy Factory, self-proclaimed "little girl rapper" Kitty Pryde, Rockie Fresh, Kris Kasanova, Akwafina and many more. Past Karmaloop live stream on air personalities have included RiFF RaFF, Andy Milonakis, Travie McCoy, Bun B, Bad Rabbits, Brooke Candy, TOKiMONSTA, Statik Selektah, Dapwell from Das Racist, A$AP Mob, Wynter Gordon, Clinton Sparks, Diplo, Rob Kardashian and Trouble Andrew.
Tune in to Karmaloop's "CyberVision" Monday on Monday, December 2nd 3:00PM to 3:00AM EST only on Karmaloop.com.