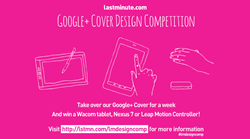 (PRWEB UK) 4 December 2013
lastminute.com, the site the UK comes to first for last minute breaks*, is calling all designers to enter its Google+ Cover design competition. Three designers who come up with the best, spontaneously-themed submissions, will win a techie prize and see their work on Google+ for a week in January.
Selected by a panel of judges, and then by a public vote, the chosen designs will communicate the benefits of a more spontaneous approach to travel and leisure in a creative and visual way. A panel of expert judges will curate the entries and select a shortlist of the strongest Google+ Covers.
As well as having the chance to showcase their work to a lastminute.com public audience for a week in January, there are three fantastic prizes for the top three entries; the winner will receive a Wacom Cintiq 13HD Pen Display, the runner-up a Nexus 7 and the design coming in third place a Leap Motion Controller.
Jon Dow, Group Marketing Executive at lastminute.com said of the competition:
"Google+ is a great platform that embodies both creativity and spontaneity - it is the perfect fit for our brand ethos and we wanted to communicate this through the competition. Our in-house designers have already had fun testing animations for the Cover but we wanted to also see what our wider audience could come up with. We can't wait to see the results."
Entry details (for further details see below):

Entry to the competition will open on the 2nd December
Competition hopefuls must submit entries by publicly posting their designs to their own Google+ profile and linking to the competition page by adding "+lastminuteUK" and the tag "#lmdesigncomp"
The deadline for entries is the 15th December
The shortlist will open for a public vote on Google+ on the 17th December and voters will have two days to vote for their favourite design
Winners will be announced on the 20th December
The expert panel
To help lastminute.com find the perfect Google+ Cover an expert panel of judges has been put together. Leading the panel of judges is Chloe Boulos, Graphic Designer at lastminute.com.
Reuben Halper, responsible for Global Advertising Programs at the Zoo, aka Google Creative Services, and part of the competition's expert judging panel, added; "Google+ is a perfect platform for brands to connect with their audience. The profile cover image offers a tremendous amount of creative flexibility for brands to express themselves. This competition is a great opportunity for designers to showcase their talents and demonstrate how to creatively use the format in order to captivate and capture the attention of the Google+ community."
Notes to Editors:
To enter
lastminute.com is asking anyone** keen to apply to create a Google+ Cover design based on the theme of spontaneity. Cover images should be 16×9 aspect ratio and a minimum size of 480px x 270px. Animated gifs should be less than 30 seconds and the file size must not exceed 5MB. You can submit your entry by hosting the logo design on your site or Google+ page and linking to our logo competition page and publicly posting the link via your own Google+ profile adding "+lastminutecomUK #lmdesigncomp".
The results of this challenge will be judged by the public on lastminute.com's Google+ page. Judges will choose a shortlist that will open to public voting for two days on 17th December. The winner will be announced on 20th December 2013, along with one runner-up. The winning design will be showcased on lastminute.com's Google+ profile page for seven days from 6th January – 12th January 2014. To find out more and read the full terms and conditions, visit http://www.lastminute.com/inspiration/lmn-design-comp.html or search social media using the hashtag #lmdesigncomp.
For further information and assets, please contact:
The lastminute.com press office:
e: lastminute(dot)com(at)golinharris(dot)com
t: 0207 067 0600
Caroline Wade, Senior PR Manager at lastminute.com:
caroline(dot)wade(at)lastminute(dot)com/07960 339 868
About lastminute.com
lastminute.com, the undisputed champion of last minute travel and leisure, is all about giving people five-star experiences for three-star price tags. We've been doing it since 1998 and we're happy to say we're the best at it. Officially.
We're the UK's largest provider of things to do across the world with over 1.65 million site visitors per week. Hotels, spa days, city breaks, meals out, theatre deals… we provide customers with great last minute deals encouraging spontaneity. Headquartered in Farringdon, London, lastminute.com also operates in Ireland, France, Germany, Italy and Spain.
Social Channels
Facebook - http://www.facebook.com/lastminute.com
Twitter - http://www.twitter.com/lastminute_com
Google+ - http://plus.google.com/112486104834932730851/posts
YouTube - http://www.youtube.com/lastminutecomUK
Flickr - http://www.flickr.com/photos/lastminute-com
Sources
In 2013 independent research, conducted by Simpson Carpenter, uncovered that when people want to take a trip within a month, they go to lastminute.com more than any other site in Europe. The research also asked which European brand consumers associated with 'last minute' travel and lifestyle - 94 per cent of them said lastminute.com.
**Applicants must be based in the UK and couples/double-acts will also be considered. Other terms and conditions apply. For further details please visit http://www.lovelivinglastminute.com.