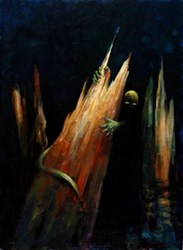 Michael Schlicting has teamed up with Dark Horse Comics, creating the cover art for Dark Horse Presents #33.
Portland, OR (PRWEB) December 04, 2013
Oregon-based artist, Michael Schlicting, and Dark Horse Comics are pleased to announce Schlicting's painting, "Ghost Forest", as the cover art for the February issue of Dark Horse Presents #33, Dark Horse Comics highly acclaimed anthology series.
The idea for the painting, "Ghost Forest", came from an unusual feature found near Schlicting's summer studio on the Oregon coast. The beach near the tide line is dotted with the remains of a 2000 year old forest, the result of an ancient cataclysmic event. Wandering around these mysterious stumps, Schlicting's imagined an unnamed creature, emerging from the primordeal ooze.
Michael Schlicting, recently the recipient of the Prize of Excellence at the Shenzhen Watermedia Biennial in Shenzhen, China, is an internationally award winning artist, juror and workshop leader, whose paintings hang in over 2800 public, private and corporate collections around the world. Schlicting's paintings are inspired and informed by his frequent travels. He has painted in Asia, South America, and throughout Italy, a favorite source of imagery. He also spent time in Mali, in Western Africa, as a Cultural Speaker for the US Department of State. He will be an attending artist at the Portland Comic-Con, in February, 2014.
Schlicting makes his home in Portland, Oregon and spends summers at his coastal studio/ gallery, the Hawk Creek Gallery, in Neskowin, Oregon. Michael also has a Facebook Fan Page, The Art of Michael Schlicting where people can find information on Schlicting's latest paintings, travels and up-coming exhibitions. One can also comment and connect with him by Liking his page.
Dark Horse Comics is an American comic book and manga publisher. It was founded in 1986 by Mike Richardson in Milwaukie, Oregon, with the concept of establishing an ideal atmosphere for creative professionals. Dark Horse publishes many licensed comics, including comics based on Star Wars, Avatar: The Last Airbender, Buffy the Vampire Slayer, Aliens, Predator, Mass Effect and Conan. Dark Horse also publishes creator owned comics such as Frank Miller's Sin City and 300, Mike Mignola's Hellboy, and Stan Sakai's Usagi Yojimbo.