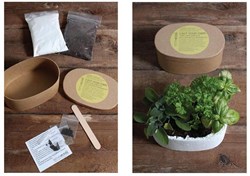 Philadelphia, PA (PRWEB) December 04, 2013
Holiday lights line the streets, Christmas trees twinkle from neighborhood windows, and shopping centers are buzzing with excitement… sure signs the holiday season is here. Yet many are still struggling to find that perfect gift for the garden lover. Garden Media Group's gift guide will help wrap up holiday shopping.
"Great gifts for gardeners won't be in short supply this season," says Katie Dubow of Garden Media Group, a media firm specializing in the gardening and outdoor lifestyle industry.
Dubow says that whether you are looking for stylish products for the home or those made in the USA, home and garden retailers have something for every budget.
NativeCast's Cast Your Own Container Kit ($15-$35)
This holiday, give an "experience" with NativeCast's DIY planter kits. This eco-concrete container is perfect for crafters, DIY lovers, party favors, crafty kids, and stocking stuffers. The kit includes NativeCast's custom eco-concrete mix, a mold, organic potting soil, and herb seeds. For more DIY shapes, décor accents, or planters, visit http://www.nativecast.com.
BrazelBerries® Raspberry Shortcake™ Shrub ($45)
The health conscious gardener will love this thornless dwarf raspberry plant with full-size berries. The compact shape means no big garden spaces required. It does great in containers so it can harvest delicious sweet berries right from the patio. Plus there are no thorns to get in the way. The gift will be sent in two shipments; first a jar of raspberry jam will arrive at holiday time, followed by the actual plant at the right time for spring planting. For more details, visit http://www.Brazelberries.com.
Costa Farms® Orchids are Easy ($9.99-24.99)
Orchids make a great gift for today's budget conscious consumer. They're readily available, require little care, are affordable, and provide months of blooms with little to no effort. As an added bonus, they naturally filter the air and add much needed moisture to a room, especially during the winter months. Visit http://www.orchidsareeasy.com to learn more.
The Green Cycler ($94.99-139.99)
Compost is the secret to keeping our soil and gardens healthy. The Green Cycler is a clean, odorless kitchen countertop solution that turns kitchen scraps into 'black gold' in a matter of days rather than weeks and months. This revolutionary new product is a clever gift for gardeners and great for those who compost food scraps year round. For more details and to order visit http://www.thegreencycler.com.
Amaryllis bulb kit, the perfect holiday hostess gift ($16.95-$64.95)
Looking to make a splash at holiday parties? Give a refreshingly unexpected hostess gift this season: Longfield Garden's stunning amaryllis bulbs. Few bulbs are easier to grow than amaryllis and few bloom with greater color and beauty. Bulbs will bloom 4-8 weeks after planting and as the flower matures, will open wider to show off their striking coloration. Visit http://www.longfield-gardens.com to learn more.
If these choices feel a little overwhelming or the gardener on your gift list is too picky, buy a gift certificate at your local garden center. It's an easy and thoughtful gift since you're tailoring it around that person's biggest joy in life: gardening.
Garden Media specializes in home and garden, horticulture, outdoor living, lawn and landscape industries, offering innovative PR campaigns designed to secure top media placements and partnerships. For more information visit: Gardenmediagroup.com