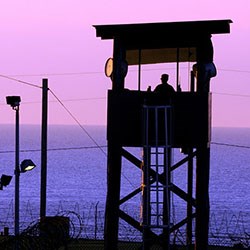 In many instances, U.S. forces used interrogation techniques which constitute torture; the nation's most senior officials bear ultimate responsibility; and there is no evidence that torture produced significant information of value.
(PRWEB) December 03, 2013
On November 21, 2013, Carnegie Council for Ethics in International Affairs hosted an unforgettable event with Professor David Gushee and Brigadier General David Irvine, members of The Constitution Project's Task Force on Detainee Treatment. This nonpartisan, independent group examined the treatment of suspected terrorists during the Clinton, Bush, and Obama administrations, with particular emphasis on the post 9/11 years. The report, released on April 16, 2013, found that in many instances, the United States was guilty of torture. Yet because of President Obama's decision to look forward, not backward, it is unlikely that the people involved will ever be held accountable.
"The events that we examined in this report are unprecedented in United States history," said General Irvine. "In our previous conflicts there have been brutal acts against captives, as has been the case by armies and governments throughout history. But there is no evidence that ever before has there been the kind of considered and detailed discussions that occurred after September 11, 2001, directly involving a president and his top advisors, on the wisdom, propriety, and legality of inflicting pain and torment on certain prisoners in our custody."
David Gushee is a professor of Christian ethics and director of the Center for Theology and Public Life at Mercer University. David Irvine is a former military intelligence officer who taught prisoner of war interrogation and military law for several hundred soldiers, Marines, and airmen.
Access the full transcript, audio, and video clips of the Carnegie Council event here.
The Constitution Project's Task Force on Detainee Treatment is an independent, bipartisan, blue-ribbon panel charged with examining the federal government's policies and actions related to the capture, detention and treatment of suspected terrorists during the Clinton, Bush and Obama administrations. Read the full Task Force Report: http://detaineetaskforce.org/report/
Founded by Andrew Carnegie in 1914, Carnegie Council for Ethics in International Affairs is an educational, nonprofit, nonpartisan organization that produces lectures, publications, and multimedia materials on the ethical challenges of living in a globalized world. For information, visit http://www.carnegiecouncil.org