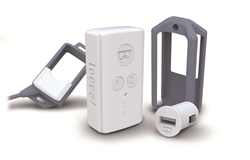 Los Angeles, CA (PRWEB) December 03, 2013
In the United States where 1.2 cars are stolen for every 1,000 insured vehicles, it is not always a matter of whether a car has been stolen but whether it could have just been misplaced. In a society where we are constantly on the go and thinking about a million things at once, it is no wonder that Americans often misplace their vehicles and when in a rush, assume it has been stolen.
Rather than induce any more stress into our lives, the Austrian hardware startup Locca has created a GPS locator to relocate stolen or missing cars. The tracking device called a LoccaPhone was developed to detect a car over thousands of kilometers away via a smartphone app for iOS, Android and Windows Phone. The LoccaPhone is all part of the Locca CarPack which, in addition, includes a charger, a USB adapter, a car battery adapter, and a silicon case.
The gadget is shock- as well as waterproof and weighs only 60 grams. The LoccaPhone can either be attached to the car's battery or easily placed somewhere in the driver's cabin thanks to the integrated rechargeable battery. Based on the intelligent energy saving mode, the battery will last up to 40 days in standby mode without charging. In addition, the LoccaPhone is equipped with a motion sensor such that if the car is being illicitly removed from its parking spot, the app will alert the Locca user right away. The car thief can then be caught red-handed and before the car is transported beyond national borders. Furthermore, an integrated crash sensor identifies accidents. Therefore, in the case of emergency, the LoccaPhone alerts the nearest control room automatically and forwards the car's position.
Through the combination of five locating technologies, the LoccaPhone is the most reliable system of its kind. The gadget utilizes FSK, GSM-cell-triangulation, Bluetooth Low Energy, AGPS, and WiFi in addition to sound- and light-positioning. Moreover, every LoccaPhone is equipped with a SIM card that allows an unlimited positioning with a monthly flat rate of $20.30 that covers all costs for the data usage. After a six-month contract duration, the scale can be paused three times a year.
In order to stimulate the gadget's serial production, Locca started an advance sale through the crowdfunding platform Indiegogo. On the portal, users can order the LoccaPhone in advance and receive a 30 percent discount until the third of January. The location device can be purchased for $216, which includes the semiannual dues for the roaming SIM card.
The LoccaPhone will be delivered directly to all customers with a charger, a 12-volt USB adapter, a car battery adapter, as well as a silicon case in February 2014.
About Locca
Locca is the world's smallest, lightest and most sophisticated GPS locator with precise in- and out-door locating technologies that allow users to stay in contact with everyone and everything by using a smartphone app, tablet or desktop. Launching first in Germany and Austria, Locca is now available to the US market as its cutting-edge location technology is operational worldwide for international use, combining five superior tracking technologies including FSK, GSM cell triangulation, Bluetooth Low Energy, WiFi, and AGPS.
The two varieties of Locca, the LoccaMini and LoccaPhone, are ideal for tracking the location of small objects and animals and infants and the elderly, respectively, with communication software included with the LoccaPhone. Both come with a pre-installed SIM card, beeper for audio-locating, motion detector, LED flashlight, energy saving mode, as well as waterproof and shockproof housing, as part of five customizable packages.
Locca is in the presale phase and has launched an Indiegogo campaign to raise additional funding. Within a year and a half, Locca has been able to develop the ultimate tracker unifying qualities of modern design, minimal constructive, intuitive handling, extensive battery service life, and a prime tracking technique. For more information, please visit Locca.com.
*Newman, Rick, "The Most and Least Stolen Cars in America," http://finance.yahoo.com/blogs/the-exchange/most-least-stolen-cars-america-155749630.html, 7/9/2013