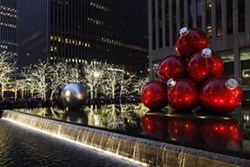 'It's not too late for manufacturers to consider upgrading their seasonal marketing strategies with attractive, high-quality custom labels,' said Julie McCulley, Lightning Labels' Production Manager.
Denver, CO (PRWEB) December 03, 2013
Lightning Labels, leader in printing custom labels and stickers, provides fast label shipping services, helping manufacturers across the country get their products on store shelves in time for the holiday shopping season. While consumers begin buying gifts for their friends, family and colleagues earlier every year, many wait until the last minute to shop for presents, holiday decorations and accessories. Brands that haven't yet made or are in the process of designing custom adhesive labels for winter holiday marketing and New Year's, can take advantage of Lightning Labels' speedy printing and shipping services.
According to the National Retail Federation (NRF), more than 15 percent of consumers won't start looking for gifts until the first two weeks of December. Nearly 4 percent wait until the very last minute and shop during the last two weeks of the month. While these percentages may seem small, they represent major sales opportunities for retailers, confectioners and other businesses.
"It's not too late for manufacturers to consider upgrading their seasonal marketing strategies with attractive, high-quality custom labels," said Julie McCulley, Lightning Labels' Production Manager. "Lightning Labels provides fast label shipping, ensuring products can be adorned with festive, eye-catching labels before the end of the holiday shopping season. Brands that act quickly can effectively target the significant demographic of last-minute gift buyers."
Two Easy Ways to Spruce Up Gift Labeling for the Holidays:
Lightning Labels offers gift labeling solutions that make creating custom labels easy and efficient, even if it's at the last minute. Here are two tips for designing holiday labels:
1. Choose A Simple, Bold Design for Last-Minute Gift Labeling: A label featuring just a small amount of text in heavy, large fonts and bright colors can help products command attention. This season store aisles will be filled with reds and greens, illustrations of Santa, reindeer and evergreens along with themes for New Year's celebrations. A more simplistic label design for products may help them stand out.
2. Demonstrate Your Product's Value on Custom Labels: According to the NRF, more than one-third of shoppers surveyed said sales and discounts are the most important deciding factors when choosing to purchase holiday gifts. Consumers want to know they're getting a great deal, so it's a good idea to flaunt the quality of products on labels. Use specific and descriptive language to portray the value of items.
To help businesses prepare for the holiday season, Lightning Labels is offering free ground shipping through 12/31/13. Free ground shipping only applies to orders shipped within the U.S. and Canada. For more tips on making effective designs for holiday labels, even at the last minute, see "6 Easy-to-follow Tips to Make a Statement with Colorful Custom Labels and Stickers," a free white paper available from Lightning Labels' Facebook page.
About Lightning Labels:
Lightning Labels uses state-of-the-art printing technology to provide affordable, full-color custom labels and custom stickers of all shapes and sizes, and now offers a full line of custom packaging products. From small orders for individuals, to the bulk needs of big businesses, Lightning Labels is equipped to handle and fulfill sticker, label and product packaging projects of all types. Best of all, like the name implies, Lightning Labels provides a quick turnaround to every customers' labeling and product packaging needs. Uses for Lightning Labels' custom product labels and custom stickers include food packaging and organic food labels, wine and beverage labels, bath and body labels, and nutraceutical products, such as vitamins, essentials oils, and herbal remedies, as well as event stickers, adhesive window stickers and more. Lightning Labels strongly supports the development of environmentally friendly printing materials and carries EarthFirst PLA, a new kind of green label material made from corn instead of petroleum. While operating as a high-tech printer, Lighting Labels prides itself on its personalized customer service. Lightning Labels provides one stop shopping for all of your label and product packaging needs. For more information and to place orders online, visit LightningLabels.com. For the latest in packaging news and labeling promotional offers, find Lightning Labels on Twitter (@LightningLabels), Facebook, Pinterest, Google+ and LinkedIn.