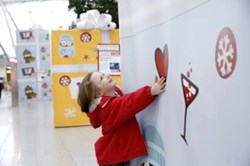 Travelers to Düsseldorf Airport will step into a Christmas wonderland just moments after landing.
Düsseldorf, Germany (PRWEB) December 03, 2013
Thousands travel to Germany for its many Christmas markets and holiday atmosphere, and those traveling to Düsseldorf Airport (DUS) will step into a Christmas wonderland just moments after landing. The new and elaborate Christmas decorations turn the DUS terminal building into a holiday and shopping destination in its own right.
More than 70 curtains with more than 40,000 lights weave a bright tapestry across the departure area. Combined with 36 white Christmas trees, the area turns into a magical Christmas forest. The centerpiece is a tree almost 27 feet high and decorated with thousands of chocolate hearts.
There is also a unique retail component: 24 giant gift boxes, up to 16 feet tall, are spread across the terminal building to form the giant "XXL Advent Calendar" – one box for each day leading up to Christmas Day and each featuring a special "product of the day" offered at 30% off in the airport's shopping mall, the "Airport Arkaden."
The specials inside the boxes reflect the variety of stores and include watches, purses, electronics and many other great gift ideas. The website http://www.enjoydus.com reveals the daily specials and features additional retail offers and deals. Members of Value Card – the DUS airport shopping rewards program – who shop at one of the participating stores between December 1-24 are automatically entered in a sweepstakes with attractive prizes. More information at: http://www.dus-card.de.
The airport is only minutes away from Düsseldorf's Old Town, the site of one of Germany's largest Christmas markets. Whether you're staying in Düsseldorf or transferring at DUS, a rich Christmas experience is guaranteed.
For more information, visit http://www.fly2dus.com.
In League with New York, London, Paris and More
Adding to Düsseldorf's appeal, several US & Canadian cities (Atlanta, Chicago, Ft. Myers, Los Angeles, Miami, New York, Newark, Toronto) offer non-stop flights. Passengers who continue their journeys can choose from numerous convenient connections to Berlin, Munich, Frankfurt, Hamburg and many other German and European cities. Throughout the year, 70 airlines serve 190 destinations worldwide – among them 125 European destinations. Another major advantage of the airport is its layout. With all gates in one terminal building, Düsseldorf Airport is the "airport of short distances" – guaranteeing minimum connection times of 35 minutes.
The airport is at the center of the Rhine Ruhr area, a bustling network of 53 connected cities and 18 million residents within 40 miles. It is the EU's third largest market in volume and spending and equal to major metropolitan regions like New York, London and Paris. 500,000 companies are located in the area, including 5,000 offices of foreign corporations, the majority from the Netherlands, Japan and the USA. Many major international industry players, including Fujifilm Europe, Nokia Siemens, Novell, Ericsson, Deloitte & Touche, McKinsey, and Toshiba, are headquartered in Düsseldorf, which is a first-rate location for high-tech concerns. International presence and fast accessibility – guaranteed by DUS being one of Germany's major hubs – make the location highly attractive.
Düsseldorf and North Rhine-Westphalia, ranked 17 in GDP among the world's major industrial centers, are also home to some of the most significant exhibitions and trade shows in the world. Of the 50 annual events at Düsseldorf's Exhibition Center, 23 lead their industry worldwide, for example, printing technology ("drupa"), plastics and rubber ("K"), medicine ("MEDICA" and "REHACARE INTERNATIONAL"), leisure time ("boot") or packaging ("interpack"). For more information on Düsseldorf Airport, visit http://www.fly2dus.com.
###
Düsseldorf Tourism & Marketing GmbH is the visitors and convention bureau of the city of Düsseldorf. Its services include tourism and city marketing, conference and meeting marketing, hotel reservation services, fairs and convention services, city event ticket sales and advance ticket reservations. For more information, visit http://www.visitduesseldorf.de.