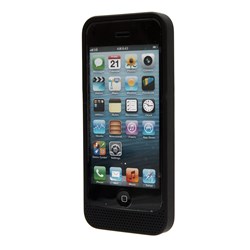 Dallas, TX (PRWEB) December 03, 2013
All the mobile experts believe that smartphone accessories are a great idea for Christmas gifts, and with the iPhone 5 leading the smartphone pack this holiday season, accessories for the newest Apple phone are going to be in hot demand. OnTrion, the manufacturer of extended batteries and accessories for all the major smartphones, is meeting that demand at a more affordable price than ever. Just in time for post-Thanksgiving weekend shopping, the company has partnered with Best Buy to offer a special deal on the LifeCHARGE™ Battery Case for iPhone 5/5S.
A recent "Time" magazine article titled "The Big Lie About Shopping on Thanksgiving and Black Friday (http://business.time.com/2013/11/21/the-big-lie-about-shopping-on-thanksgiving-and-black-friday/) cited a consumer poll that found "13 percent of U.S. consumers plan to shop on (Thanksgiving). However, a hefty 46 percent of consumers plan to shop on Black Friday (Nov. 29), as the day continues to be the prime focus for the bargain-conscious consumer."
Shoppers who don't want to contend with all that Black Friday hassle, however, can still find a bargain on one of the hottest accessories of the holiday season. OnTrion, the one stop shop for batteries for all the most popular smartphones, has just partnered with Best Buy for an after Black Friday deal on its LifeCHARGE™ Battery Case for iPhone 5/5s.
Beginning November 30 and running through December 7, the MFI-approved LifeCHARGE™ Battery Case for iPhone 5/5s (Model: ONT-PWR-35171) will be on special sale at Best Buy (SKU: 2601165). Thanks to this partnership, shoppers need not fear that they will score a better deal by waiting. That's because Best Buy will be living up to its name this holiday season. The mass retailer recently announced that it will "match rivals' prices even after customers have purchased items, whether in stores or online," the Associated Press reported.
For additional information on the OnTrion LifeCHARGE battery case for iPhone 5/5s, visit the company on the Web at http://www.ontrion.com/LifeCHARGE_Battery_Case_for_iPhone_5_p/ont-pwr-35171.htm. To learn more about the superior extended life features the product offers, contact OnTrion's Palki Kochar.
Contact Information:
Palki Kochar
13650, TI Blvd., Suite #309
Dallas, TX 75243
972-497-9933