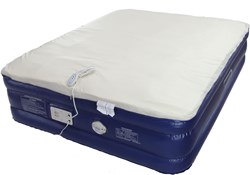 The only beds we sell on AirMattress.com are the ones we stand behind.
Utah (PRWEB) December 04, 2013
On Dec. 2, 2013, Air Mattress started carrying one of the widest selections of AeroBeds found online. Consumers can now choose from 17 different air mattresses within the AeroBed brand. AirMattress.com not only carries a large number of AeroBed air mattresses, but the various styles the the brand offers. These different air mattresses range from raised air beds, camping air beds to toddler air beds.
This wide selection has grown over the past twenty years since AeroBed has been in business. The addition of these air mattresses brings the total number of brands sold on the site to six.
Kris Stowell the owner of Air Mattress explains why this particular brand was added to AirMattress.com.
"We wanted to sell AeroBed on the site because we like their long warranties. It's an obvious way you can tell a brand is focused on their customers."
They offer a yearlong warranty on all of their air mattresses. This warranty covers any manufacturing defects. Air Mattress' customers can redeem this warranty by contacting the customer service team at AirMattress.com.
Stowell adds why the warranty is taken so important at Air Mattress.
"We want to sell brands that have a focus of taking care of their customers long after the sale has been made. They focus on customer service. Their goals match our goals."
This goal is line with the mission of AirMattress.com. Stowell explains why AirMattress.com sells certain brands and not others.
"The only beds we sell on AirMattress.com are the ones we stand behind."
About AirMattress.com
AirMattress.com offers a wide variety of top quality airbeds. Each product is provided with a custom review from the specialty site as well as a warranty. AirMattress.com is the best place to find demonstration videos, customer reviews and detailed photos of the product prior to purchase. Customer satisfaction is the top priority, providing the best customer service and only the best airbeds for a great night's sleep. For more information please visit http://www.airmattress.com or call us Toll-Free at 1-800-378-5817.