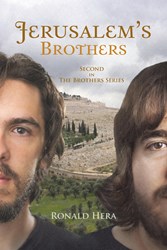 Indianapolis (PRWEB) December 04, 2013
Living in a world with smartphones, Wi-Fi and Google glasses, people today might not think they have much in common with those who lived in the first century.
However, "Jerusalem's Brothers," a historical novel by Ronald Hera, shows that people today really do have commonalities with their ancestors from this time period.
"Many people in the world today face the same struggles that my characters faced by living poor and in an occupied country," Hera said. "We all have to deal with conflicts when trying to make a living and raise a family at the same time."
Hera enjoys researching Biblical events for his novels to discover what life was like in the past. He chose to focus on these early Christians because they inspired him with their perseverance and steadfast beliefs.
"Believers were bold, strong and resourceful in the first century. Their actions have given us the faith we now hold dear today," Hera said.
Jerusalem's Brothers
By Ronald Hera
ISBN: 978-1-4918-0372-1
Softcover retail price: $15.95
Hardcover retail price: $25.50
E-book price: $3.99
About the author
Ronald Hera is the Director of Development for Ghana Christian Mission. He has traveled throughout the world and enjoys writing and researching Biblical events for his novels, which include both Jerusalem's Brothers and Bethlehem's Brothers, the first book in The Brothers series.
Available at http://www.amazon.com, http://www.bn.com, and http://bookstore.authorhouse.com/.