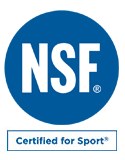 We are committed to upholding the highest ethical and quality standards in the industry.
Vista, California (PRWEB) December 04, 2013
Health Specialties Manufacturing, Inc. (one of The GHT Companies) is pleased to announce that it has received certification for Good Manufacturing Practices (GMP) for Sport.
This means that the company has been assessed by the top public health and safety organization, NSF International, and found to be in compliance with all of its stringent manufacturing guidelines, developed through a consensus involving regulatory, sports industry and consumer groups.
It also means that our facility is compliant with all regulations and restricitions regarding the storage or use of banned or prohibited substances such as narcotics, steroids, stimulants, hormones and other related substances along with diuretics and other masking agents.
Health Specialties Manufacturing, Inc. is a full-service contract manufacturing provider for the nutrition industry. The Vista, California company has the equipment, facility, staff and expertise to produce a wide range of custom or private-labeled dietary supplement and functional nutrition products.
Company President and CEO Jim Rex said, "Acquiring GMP for Sports certification is another extremely positive step forward in building the growing reputation of HSM and all of the GHT Companies. We offer 'one-stop shopping' for professional-grade services and we are committed to upholding the highest ethical and quality standards in the industry."
"From assisting with product formulation to packaging and quality control our team takes immense pride in delivering state-of-the-art products with first-class service. We strive to satisfy our customers so that they will be inspired to maintain a long term relationship with our companies. We are a close-knit group of professionals that work with each of our customers until the absolute maximum level of satisfaction is achieved."
NSF International was founded in 1944 with a mission to protect and improve global human health. Manufacturers, regulators and consumers look to NSF to develop public health standards and certifications that help protect food, water, consumer products and the environment. As an independent, accredited organization, NSF tests, audits, and certifies products and systems as well as providing education and risk management.
About Health Specialties Manufacturing
Health Specialties Manufacturing ('HSM') is the manufacturing arm of the industry-leading business group, The GHT Companies. The company is focused on delivering manufacturing and production services for Private Label Lines and Contract Manufacturing to the nutritional supplement industry. Full in-house capabilities are supported by multiple production lines, a science team and a dedicated quality team. The company is an NSF GMP certified facility. For further information please visit http://www.healthmfg.com.