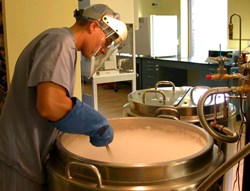 "We always knew we would come back for our other babies someday," commented Marie Laurent.
Boston, MA (PRWEB) December 12, 2013
Since the successful live birth of a previously cryopreserved human embryo was first reported almost three decades ago in 1984, records for length of cryopreservation with subsequent thaw and live birth have been set and surpassed. To date, the longest duration of cryopreservation yielding a live born infant was almost 20 years, reported 2 years ago in 2011, in a case where the cryopreserved embryo had been donated to achieve pregnancy in a different family.
During in vitro fertilization (IVF) treatment, it is not unusual for patients to have more than just the one or two embryos transferred to achieve a pregnancy. Some of the embryos not transferred may be frozen (or cryopreserved, to use the scientific term) for potential use later.
Advances in assisted reproductive technology for infertility, together with an increase in the numbers of infertile couples who need IVF to build their families, have resulted in increasing numbers of cryopreserved embryos.
Advances in cryopreservation technologies over the past 30 years have resulted in a significantly improved thaw survival rate of cryopreserved human embryos. The ability to cryopreserve embryos takes the pressure off IVF patients to transfer multiple embryos in the current IVF cycle because they don't need to worry that their embryos, which were not transferred are going to be "wasted." The knowledge that they can return for a frozen embryo transfer at a significantly lower cost if they are unsuccessful with their current IVF cycle provides them with the confidence to transfer only one or two embryos in their current IVF cycle, thus minimizing the risk of multiple births.
Using the latest method of cryopreservation known as "vitrification," the thaw survival rate of vitrified human embryos has been reported to be over 90%, and the likelihood of achieving successful pregnancies with thawed vitrified embryos has been similar, and in some reports better, than following transfer of fresh embryos. Vitrification has also been recently used very successfully to cryopreserve unfertilized human oocytes (eggs), and it has been observed that up to 90% of vitrified unfertilized human oocytes successfully survive thaw. This advance in cryopreservation technology now allows for fertility preservation in a variety of situations in which women need to (for medical reasons), or electively choose to, defer pregnancy.
People are understandably concerned about how long embryos can be held in frozen storage before being thawed and used to create another pregnancy. Studies thus far show that the duration of embryo storage does not appear to negatively impact pregnancy potential.
At Reproductive Science Center of New England (RSC), there is a happy family who knows that 17 years between siblings is just fine. Marie and Jean Laurent, conceived their first child via IVF at RSC in 1995, and a son was born to them in 1996. Two embryos from this IVF cycle remained and were cryopreserved. Marie commented, "We always knew we would come back for our other babies someday."
And, they eventually returned to RSC, 17 years later in 2012, when their son was 16 years old. Dr. Samuel Pang, Medical Director at RSC, again helped the Laurents get pregnant, this time transferring both of their thawed embryos, which resulted in the live birth of twin boys in 2013. The Laurent family is now complete.
"To the best of my knowledge, this case, in which human embryos were thawed after almost 17 years of cryopreservation, may represent the world record for the longest duration of human embryo cryopreservation which has resulted in another successful pregnancy and live birth in the same family," said Dr. Pang. "As long as the cryopreserved embryos are carefully maintained in storage in liquid nitrogen, there may be no limit to how long they can be kept for the family's use."
Celebrating its 25th anniversary year, the Reproductive Science Center (RSC) of New England is a Top 10 Fertility Treatment Center with award-winning physicians and Center of Excellence distinctions ensuring patients receive the highest quality care and best outcomes throughout their journey to parenthood. RSC provides comprehensive diagnosis, consultation and treatment for infertility. RSC New England has 11 offices in Massachusetts, New Hampshire and Rhode Island and is a member of Attain Fertility Centers, the largest national network of infertility treatment providers in the U.S.