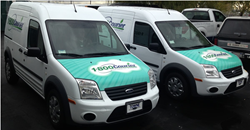 Atlanta, GA (PRWEB) December 03, 2013
1-800 Courier, leader in messenger, same-day delivery, and transportation services, announces service delays during inclement weather. The same-day courier has made the announcement in an effort to inform customers of service expectations during bad weather, promote driver safety, improve delivery completion rates, and improve customer satisfaction. A-1 Express strives to be the best choice for same-day delivery nationwide.
During inclement weather, 1-800 Courier service will inform all customers of potential delays in the respective area of the order requested. Whether a customer requests the order via phone or online, the customer is notified of delays and time frames for their service. The delay time frame can be between an additional hour for pick up and delivery. The delay is also to alleviate all courier drivers from any delivery pressure, which will assist them to utilize the best driving safety practices.
1-800 Courier normally offers standard service, which is a four-hour window-time service and express service, which is a two-hour window-time service. 1-800 Courier will perform the delivery within the service time frame the customer has requested, with the exception of inclement weather. Each service has a delivery due time. It is not guaranteed for the delivery to be completed by the due time, however, the courier does have a 94% on-time delivery success rate. T
With 1-800 Courier being notified of potential delays due to inclement weather, its' customers are placed in the position to make the best choice in regards to their package. Some packages may be time-sensitive, which in this case, customers can elect to pursue another delivery option, even performing the delivery themselves. For those that do not have this type of time frame, the customer can request that 1-800 Courier perform their order on a future date. For any questions regarding inclement weather delays in a particular area or city, 1-800 Courier is available 24/7 to assist with any questions or same-day delivery needs.
1-800 Courier is a premier same-day courier offering transportation and distribution services. From small packages to palletized freight, 1-800 Courier delivers fast. As a leader in the courier industry, their goal is to perform optimal courier logistic solutions and superior customer service every time. This New Jersey Courier provides same-day delivery successfully for over 1,500 clients, including Fortune 500 companies throughout the US.