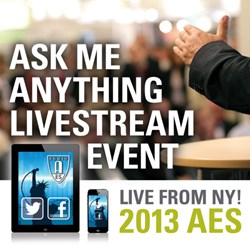 Stow, OH (PRWEB) December 03, 2013
Audio-Technica, a leading professional audio innovator for over 50 years, has made available online the "Ask Me Anything" (AMA) sessions the company recently hosted at the 135th AES Convention in New York, NY. Sessions took place on Friday, October 18, and Saturday, October 19, at A-T's exhibition booth on the convention floor.
The archived sessions, available on Audio-Technica.com, include discussions on pro audio equipment, industry insights and more with Joel Singer, GRAMMY® Award-winning engineer/mixer, co-founder and chief engineer of Music Mix Mobile; Jackie Green, VP R&D/Engineering at Audio-Technica; Frank Filipetti, GRAMMY® Award-winning music producer, engineer and mixer; Richie Castellano, musician and YouTube sensation; Richard Chycki, mixer, engineer and producer; Carl Tatz, TEC Award-nominated recording studio designer; Frank Wells, President of AES; and Jimmy Douglass, GRAMMY® Award-winning recording engineer/record producer.
"Ask Me Anything" questions were submitted by individuals present at AES booth 2723, online at LiveStream.com, and by Twitter #ATliveAES – and then fed to the presenters through a moderator during the 30-minute Q&A session on pro audio.
"We were extremely happy with the AMA sessions in the A-T booth at the AES show this year," stated Gary Boss, Audio-Technica Marketing Director. "Not only was this a unique opportunity for both attendees at the show and those at home to ask insightful questions, but the content will be archived for a whole new audience to benefit from all of our presenters' wisdom and insights. There were laughs, thought provoking answers and a few uncomfortable moments. Exactly the kind of scenario where we get to see the true genius behind our guests and understand why they are at the tops of their respective fields."
Watch professional audio innovator, Audio-Technica, "Ask Me Anything" sessions at http://www.audio-technica.com/aes2013.
About Audio-Technica:
Celebrating over 50 years of audio excellence worldwide, Audio-Technica is a leading innovator in transducer technology, renowned for the design and manufacture of microphones, wireless microphones, headphones, mixers, and electronics for the audio industry.
For more information on the complete range of Audio-Technica products, contact:
Karen Emerson, Audio-Technica U.S., Inc., 1221 Commerce Drive, Stow, OH 44224.
Tel: (330) 686-2600; Fax: (330) 688-3752; Web: http://www.audio-technica.com