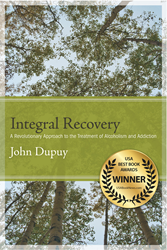 This book is filled with a multitude of incredibly effective disciplines, which are game changing in their healing & transformative effects for those battling addiction and those on the sidelines trying to help.
Teasdale, Utah (PRWEB) December 04, 2013
We are pleased to announce that Integral Recovery: A Revolutionary Approach to the Treatment of Alcoholism and Addiction, published by SUNY Press, won the 2013 USA Best Book Award in the Health: Addiction & Recovery category on November 14, 2013.
Written with compassion, humor, and humility, Integral Recovery is a detailed and motivating resource for anyone who is struggling with addiction or who cares about someone who is: for addicts, their families and friends, and their health care providers. "Having been a wilderness guide for many years, I know the need for good maps," says Dupuy. A good map is exactly what readers will find in this book on the journey of living a holistically healthy, addiction-free lifestyle.
Integral Recovery will resonate with:

Anyone whose life is affected by the disease of addiction and who is seeking something beyond the usual 12-step treatment
Health care professionals looking for a more holistic and dynamic recovery approach
Anyone interested in transforming their life through an Integral Practice
Familiar with and dissatisfied by the often short-term results of existing recovery programs, Dupuy applies Integral Theory to the treatment of addiction, drawing from the wisdom of existing approaches while utilizing new ones and inviting readers to find resources for recovery within themselves.
John practices components of Integral Recovery daily in his own life―sharing the process right alongside those facing addiction―showing readers that his approach may help anyone, whether they are suffering from depression, PTSD, or simply seeking a more balanced, healthy, and spiritual lifestyle.
Integral Recovery is the map you've been waiting for.
http://www.integralrecovery.com
Integral Recovery has been offering cutting-edge intensive retreats, coaching, and consulting services to individuals, families, and health professionals since 2006.
For more information, please contact:
Heidi Mitchell, Media Contact 435-691-1654
heidimitch(at)gmail(dot)com