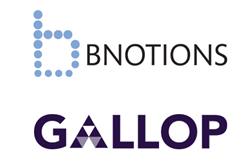 Gallop aims to arm advertisers with marketing solutions that build trust through provable metrics, audience segmentation and precision targeting. - Karthik Ramakrishnan, CEO, Gallop Media
Toronto, Canada (PRWEB) December 03, 2013
This week, Gallop Media landed with a splash on the mobile advertising scene. The B2B ad-buying platform is offering mobile marketers a fresh, innovative way to quickly and efficiently drive user acquisition and retention.
Gallop is uniquely qualified to deliver on this value proposition. Tired of watching product launches get bungled by digital agencies, BNOTIONS quietly assembled a team whose core expertise in mobile strategy, design, user experience, and development made them inspired growth hackers for their clients. Careful data collection and analysis has allowed the Gallop team to develop proprietary technology that segments in-app analytics to identify the valuable users that will help brands grow their user bases intelligently--saving them time and money in the process. Over the past few months, Gallop has seen great in-market success of campaigns for Vu Digital and Telus, with Vu Digital experiencing a 41% savings in cost-per-install over the course of the campaign and a 400% growth in installs with Facebook mobile ads in less than 7 weeks. These strong results reflect both the strength of the platform and the real need for smarter ways to market to consumers.
"The media landscape is rapidly evolving," said Alkarim Nasser, Managing Partner, BNOTIONS. "Lately, there has been a general move to make media more transparent, performance-based and better targeted. With BNOTIONS' deep experience building mobile technology, our Preferred Marketing Developer status, which qualifies us in Application development with the highest performing ad platform Facebook, and our intimate understanding of the analytics generated within these products, it made sense to build a pipeline between this data and media buying. We wish the Gallop team a tremendous amount of success in achieving their vision to usher in the next transformation in digital media."
Gallop seeks to disrupt the current media buying model, which often leaves publishers in a no-man's land, caught between digital agencies that lack the holistic knowledge needed to market an app and self-service ad-buying platforms that lack support and insight. Leveraging Facebook and its incredible reach, Gallop marries behavioural data created in-app with social data to fundamentally improve advertisers' returns on user acquisition, retention, and monetization strategies. The goal: Empower mobile advertisers to accelerate real business growth.
"In a rush to implement advertising too quickly and monetize the internet, we have a terrible set of tools," said Karthik Ramakrishnan, CEO, Gallop Media. "Gallop aims to arm advertisers with marketing solutions that build trust through provable metrics, audience segmentation and precision targeting. That is when marketing dollars will really start shifting to the digital domain in a meaningful way. Our vision at Gallop Media is to enable this fundamental shift in digital advertising."
Since their soft launch in Q3 of 2013, Gallop Media has already been working with a roster of clients in the U.S. and Canada, including Royal Bank of Canada, Indigo, and C Spire Wireless, helping them to accomplish and surpass their business goals. To learn more and get in touch with the Gallop team visit gallopmedia.com.
About Gallop
Through finding, focusing on, and engaging your most valuable users, Gallop Media fundamentally improves your return on your user acquisition, retention, and monetization strategies. We use our proprietary technology to transform in-app user data into insights that will ensure positive ROI on campaigns and unlock growth, allowing you to achieve real business goals. Our vision is to change the face of the digital advertising, going beyond the banner and centred around provable metrics, audience segmentation, and targeting. Learn more: gallopmedia.com/.