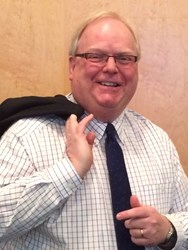 In an industry that is growing exponentially, I am proud to have joined a company whose reputation for focus, quality and excellence has driven its growth.
London, United Kingdom (PRWEB) December 04, 2013
Column5 Consulting, a global leader in Enterprise Performance Management (EPM) consulting, has named David JH Jones as its new Managing Director in the UK and EMEA.
David, who was most recently Director of EPM Consulting at PwC, leading some of PwC's largest UK EPM projects, will be responsible for growing Column5's partnerships, client base and high quality team across EMEA. Prior to that, David was Services Director and Middle East Managing Director at Paragon Consulting Group, one of Europe's leading EPM practices, which PwC acquired in 2010. Column5, which had previously focused its EMEA division almost exclusively on the UK, will expand its presence internationally through partnerships and direct expansion. David will spearhead these efforts based on his extensive European and Middle East consulting experience and far reaching network of senior finance executives across EMEA.
David brings nearly 30 years of finance transformation and EPM experience to Column5. "What attracted me to Column5 was its thought leadership and innovation in implementing EPM solutions globally," David said. "With the extended and successful growth of Column5 globally, and with the market desperate for global quality and focused EPM implementation partners, it seemed the perfect time to accept the challenge of growing Column5 throughout EMEA."
"I am also impressed with Column5's tradition of competency and quality that has established the company as one of the most trusted and exclusive resources offering implementation services in support of SAP EPM solutions at some of the world's best known companies," added Jones. "In an industry that is growing exponentially, I am proud to have joined a company whose reputation for focus, quality and excellence has driven its growth."
As one of his primary duties at Column5, David will be directing Column5's growth initiatives throughout EMEA beginning with an extensive recruiting campaign for exceptionally accomplished EPM resources.
"Column5 is proud of our long list of exclusive innovations that are engineered to deliver world class quality results and value for SAP EPM clients. These unique capabilities include EPM process best practice leadership, robust client enablement training programs, platform stabilization and performance optimization, and extended support," said David Den Boer, CEO, Column5. "David's leadership will help us enhance and deploy the entire spectrum of our capabilities to global customers who desire maximum value from their EPM solution delivery."
About Column5
Column5 is the world's leading-edge consulting firm dedicated to providing high-value services that help customers leverage the power of SAP's Enterprise Performance Management (EPM) suite and implement and imbed world class EPM processes. Column5 was founded in 2005 by key players from OutlookSoft, and quickly evolved into a global team of experts who are uniquely qualified to properly design and deliver comprehensive systems, addressing a wide range of industry and process-specific requirements. Column5's custom tailored solutions combine proven software with unparalleled technical skills and visionary enterprise performance management process expertise to deliver prompt return on investment, long-term independence and a competitive edge for our elite list of discerning clients.
Headquartered in Scottsdale, Arizona, Column5 serves customers throughout North America, EMEA and APJ with regional operations located in Atlanta, Boston, Chicago, Dallas, Denver, Houston, Las Vegas, Los Angeles, New York, San Francisco, Seattle, London, Manila, Paris, and Singapore. Additional information is available at Column5.com.