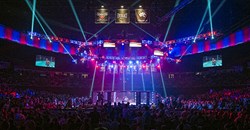 This alliance will bring to a rabid fan base a variety of unique products that MMA has never seen before
Newport Beach, CA (PRWEB) December 11, 2013
Bellator MMA announced today that it has partnered with licensing agency, All-American Licensing & Management Group (AALMG), to develop a line of uniquely designed lifestyle products including a collection of apparel and accessories; video, interactive and mobile games; sports and fitness equipment; and nutritional products and workout gear.
"As the Bellator brand continues to grow exponentially, securing an innovative licensing partnership was vital," Bellator Chairman & CEO Bjorn Rebney said. "AALMG's experience, expertise and industry leading knowledge of sports licensing made them the perfect fit."
"We couldn't be more thrilled to be working with Bellator, an organization that is committed to the integrity and purity of MMA making it the most dynamic sporting event company in the industry," says Michael Gottsegen, co-founding partner of AALMG. "This alliance will bring to a rabid fan base a variety of cool and unique products that they've never seen before," said Gottsegen.
Bellator just completed its highly anticipated ninth season, which featured the Bellator debut of MMA icon Quinton "Rampage" Jackson, along with a host of World Title fights including MMA superstars Eddie Alvarez, Michael Chandler, Daniel Straus and Pat Curran. The season averaged over 750,000 viewers per week, making it the highest rated MMA promotion on cable, trumping the UFC. Bellator consistently saw peak ratings at over 1 million viewers during its biggest fights, including a 1.4 peak during the long awaited Michael Chandler vs. Eddie Alvarez rematch.
"As their recent ratings have shown, Bellator MMA is truly the fastest growing combat sports' promotion in the world. The product concepts that we'll be introducing will be perfectly targeted to the growing base of Bellator MMA fans," stated AALMG Partner Al Ovadia.
For more information, visit Bellator.com, follow Bellator on Twitter @BellatorMMA, follow Bellator Chairman & CEO Bjorn Rebney @BjornRebney and check out Bellator on Facebook at http://www.facebook.com/BellatorMMA
About Bellator MMA
Bellator MMA is the world's largest tournament based Mixed Martial Arts organization. Televised to nearly 500 Million homes worldwide in over 115 countries, Bellator's majority owner is entertainment giant Viacom. In the United States, Bellator can be seen on Spike TV, the MMA television leader. With over 175 world-class athletes under contract, Bellator is home to many of the sport's top mixed martial artists. Bellator's founder & CEO, Bjorn Rebney, is an experienced fighting sports and entertainment executive with a deep commitment to the purity and integrity of the sport of MMA and its athletes. Bellator's core philosophy is that title shots should be earned, not given. This belief gave rise to Bellator's real sport, tournament-based format, which gives Bellator's tournaments a true playoff feel that keeps the sport true and distances itself from the subjective side of fighting sports found in organizations that utilize a matchmaking/casting formula. Bellator MMA is comprised of an executive team that includes top industry professionals in television production, live event orchestration, fighter development/relations, venue procurement, sponsorship creation/development, international licensing, marketing, advertising, publicity and commission relations. Bellator is based in Newport Beach, California.
About Spike TV:
Spike TV is available in 98.7 million homes and is a division of Viacom Media Networks. A unit of Viacom (NASDAQ: VIA, VIAB), Viacom Media Networks is one of the world's leading creators of programming and content across all media platforms. Spike TV's Internet address is http://www.spike.com and for up-to-the-minute and archival press information and photographs, visit Spike TV's press site at http://www.spike.com/press. Follow us on Twitter @spiketvpr for the latest in breaking news updates, behind-the-scenes information and photos.
About mun2
mun2 is the leading Hispanic cable network for young millennial adults 18-34. From reality to music, on-air to digital, mun2 creates original content that resonates across a multi-screen platform. Young, vibrant and unabashedly Latino, mun2 has a distribution to over 38 million households. The network is part of Telemundo Media, a division of NBCUniversal.
About All-American Licensing & Management Group (AALMG)
All-American Licensing & Management Group (AALMG) is a full-service branding agency specializing in client management, licensing, endorsements and retail development. With offices in Los Angeles, Austin and NYC, AALMG has an impressive roster of clients ranging from top corporate brands to celebrities. Founded in 2011 by veteran licensing executives Tim Rothwell and Michael Gottsegen, AALMG provides their clients with a global network of relationships as well as a track record of success. Rothwell is a licensing and business veteran who has recorded the largest licensing deals, in multiple categories, in the industry. And with more than 30 years of retail experience, Gottsegen has garnered numerous awards including his induction into the In Store Marketing Institute's "Hall of Fame." For more information on AALMG, go to http://www.AALMG.com
FOR MORE INFORMATION, CONTACT:
Anthony Mazzuca
(949) 222-3400
Anthony@Bellator.com
David Schwarz
(212)767-8639
David.Schwarz@MTVStaff.com