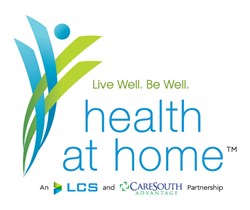 "HomeCare Elite agencies are held to a higher standard and thus lead the way for better care for our patients."
Austin, TX (PRWEB) December 03, 2013
Health at Home, an LCS® and CareSouth Advantage partnership, has been named a Top Agency of the 2013 HomeCare Elite™, a recognition of the top-performing home health agencies in the United States. Now in its eighth year, the HomeCare Elite identifies the top 25 percent of Medicare-certified agencies and highlights the top 100 and top 500 agencies overall. Winners are ranked by an analysis of publicly available performance measures in quality outcomes, best practice (process measure) implementation, patient experience (Home Health CAHPS®), quality improvement and consistency, and financial performance. In order to be considered, an agency must be Medicare-certified and have data for at least one outcome in Home Health Compare. Out of 9,969 agencies considered, 2,496 are elite.
The award is sponsored by OCS HomeCare by National Research Corporation, the leading provider of home health metrics and analytics, and DecisionHealth, publisher of the most respected independent newsletter in the home health profession, Home Health Line.
"The 2013 HomeCare Elite winners demonstrate a commitment to providing patient-centered care and serving as leaders in the home health community. Their success is a tribute that managing healthcare data and utilizing it for improvement initiatives lead to high quality care, and we recognize them for their outstanding achievements," said Mary Oakes, senior vice president of post-acute at National Research. "We congratulate Health at Home on being recognized as a top home care agency."
Rick Griffin, CareSouth President and CEO, credits a focus on innovative clinical programs that drive exceptional outcomes and quality customer service with the agency's ability to achieve recognition as one of the HomeCare Elite.
"HomeCare Elite agencies are held to a higher standard and thus lead the way for better care for our patients," said Mr. Griffin. "We are very pleased that our Health at Home partnership agency has earned this position and want to acknowledge our staff in the Austin office for their dedication to the field of in-home health care."
"HomeCare Elite recognition is a significant acknowledgement. The shift from fee-for-service to pay-for-performance payment models is reshaping the healthcare profession. And home health is proving to be an integral part of the continuum. In the face of value-based purchasing and care delivery model changes, the metrics that make up HomeCare Elite methodology shine an accountable light on an industry that may be the lynch pin to achieving affordable care at home," said Marci Heydt, Product Manager for the post-acute care business group of DecisionHealth.
The entire list of 2013 HomeCare Elite agencies can be downloaded by visiting the National Research Corporation website at http://www.nationalresearch.com/homecareelite.
About Health at Home
Health at Home is a home health company providing post-acute and non-acute health care services to clients in the privacy of their own homes. In addition to Medicare certified home health care, Health at Home provides private-duty, hourly home care services. In 2013, the parent company of Health at Home, LCS, joined in partnership with CareSouth Health System, Inc., to provide the CareSouth Advantage to Health at Home clients.
About CareSouth
CareSouth is a leading provider of non-acute health services with Medicare certified home health agencies in Alabama, Georgia, Florida, North Carolina, Tennessee and Virginia. In addition to home health care, the company also offers private duty/personal care services, hospice, housecall physicians and health and wellness services in select locations. Additionally, CareSouth delivers business services solutions to third-party providers across the country and employs more than 2400 individuals. For more information, visit the website at http://www.caresouth.com.
About LCS®
Based in Des Moines, Iowa, and established in 1971, LCS is a leading provider of high-quality senior lifestyle products and services. The LCS Family of Companies focus on strategic planning, development, operations management, and marketing and sales management for continuing care retirement communities (CCRCs) and senior living communities, home health care and companion services, senior living community ownership, insurance, and national purchasing consulting services. The companies of LCS serve over 32,000 residents in 118 communities in 31 states and the District of Columbia. Health at Home established by LCS in 1984, specializes in tailoring its services to meet clients' needs, whether they currently reside in a senior living community or in their own home. Health at Home currently has licensed and Medicare-certified agencies in Arizona, Connecticut, Florida, Illinois, Indiana, Kansas, Maryland, Missouri, Tennessee and Texas. For more information visit LCSnet.com and healthathomeLCS.com.
About National Research Corporation
For more than 30 years, National Research Corporation (NASDAQ: NRCIA and NRCIB) has been at the forefront of patient-centered care. Today, the company's focus on empowering customer-centric healthcare across the continuum extends patient-centered care to incorporate families, communities, employees, senior housing residents, and other stakeholders.
Recognized by Modern Healthcare as the largest patient satisfaction measurement firm in the U.S., National Research is dedicated to representing the true voice of patients and other healthcare stakeholders. This integration of cross-continuum metrics and analytics uncovers insights for effective performance improvement, quality measurement, care transitions, and many other factors that impact population health management.
National Research is headquartered in Lincoln, Nebraska. For more information, call 800-388-4264, write to info(at)nationalresearch(dot)com, or visit http://www.nationalresearch.com.
About DecisionHealth®
For over 25 years, DecisionHealth has served as the home care industry's leading source for analysis, guidance and tools that improve revenue cycle performance, profitability and regulatory compliance. Agencies nationwide turn to DecisionHealth for education and training, coding and billing solutions, and ongoing expert guidance through its family of subscription-based services. DecisionHealth also certifies home health agency professionals in coding and OASIS-C through its Board of Medical Specialty Coding & Compliance, and provides custom consulting services to agency leaders through its DecisionHealth Professional Services unit. For product information, call 1-855-CALL-DH1 or visit http://www.decisionhealth.com.