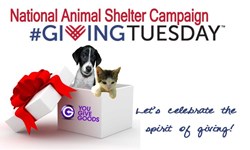 The National Animal Shelter Campaign is the first of its kind.
Mendham, NJ (PRWEB) December 03, 2013
Starting #GivingTuesday, December 3, 2013, through the end of the month, animal shelters across the country are joining with YouGiveGoods in a national online campaign for critical goods at yougivegoodslovesanimals.yougivegoods.com.
Animal shelters are the very heart of our communities. Their volunteers provide us with beloved family members who warm our hearts with warm noses and playful antics. Volunteers spend countless hours rehabilitating the lost by providing a safe environment. With patience, they encourage each pet to flourish and realize their full potential as the family pet.
Helping support these organizations sometimes seems impossible. Perhaps it is not the right time for a new pet, a member of your family may be allergic, volunteering is difficult for any number of reasons, and going to the store and buying goods is often more confusing than it immediately sounds. This #GivingTuesday, YouGiveGoods offers a new way of giving back.
The National Animal Shelter Campaign is the first of its kind. Shelters across the nation provided YouGiveGoods with wish lists of cleaning supplies, kitty litter, specific types of cat or dog food. To help you need only go to yougivegoodslovesanimals.yougivegoods.com, pick either a category or a specific shelter, choose what goods they want to donate, and check-out. The rest is taken care of.
No donation is too small or inconsequential. If everyone provided one can of cat or dog food this holiday, our shelters would have enough food for an entire year; creating more time to focus on care, finding homes, and developing new educational programs. Especially important is the fact that every shelter chose its list of items and amount required. This means no donation is unwanted or unusable. Every donation is mission critical.
Be a hero to a pet this year. Donate on December 3, 2013.
About YouGiveGoods: YouGiveGoods is based in Mendham, NJ and is operated by a group of people who strongly believe in the importance of helping others in need. The company's website, YouGiveGoods.com, was developed to make it easier for people and organizations to set up and run in-kind charity drives, including food drives and animal shelter drives. The site provides free services to charities and makes it simpler for people to donate goods to the charities they want to support. The innovative technology platform is designed to inspire people to give and help others. Visit YouGiveGoods.com.