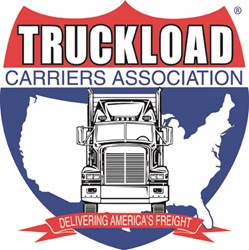 Lindsay Lawler has helped support a long-standing American tradition that fits well with the values of the trucking industry.
Alexandria, Virginia (PRWEB) December 03, 2013
Lindsay Lawler, official spokesperson of the Truckload Carriers Association's (TCA) Highway Angel program, will sing at the official tree lighting ceremony and associated receptions for the U.S. Capitol Christmas Tree on December 3.
Lawler has already performed at "whistle stops" in Nashville, Tennessee, Allentown, Pennsylvania, and Andrews Air Force Base in Maryland in conjunction with the tree's 5,000-mile journey from northeast Washington State to its final destination, the U.S. Capitol Building in Washington, D.C. Since many of Lawler's song lyrics send a positive message about the trucking lifestyle, TCA saw an opportunity to not only spotlight how the tree traveled – on a custom-built, Mack® Pinnacle™ truck – but also to support a long-standing American tradition that fits well with the values of the trucking industry.
"As a whole, people who make their living from trucking are known for their hard-working, family-oriented, and patriotic values, and this tree symbolizes the ideals we embrace," said Tom Kretsinger , Jr., president of American Central Transport, Inc., Liberty, Missouri, and the chairman of TCA. "Being able to include Lindsay in the festivities was an added bonus, as her wonderful message and heartfelt love for our industry complemented our efforts perfectly."
Now that the tree has reached the Capitol's grounds, Lawler will perform for the official lighting ceremony beginning at 4:30 p.m., on Tuesday, December 3, 2013. She will sing "Standing Tall," the official Capitol Christmas Tree song that she and Chris Roberts wrote for the 2012 lighting ceremony. At 5:00 p.m., the tree will be lit by Speaker of the House John A. Boehner; Architect of the Capitol Stephen T. Ayers, AIA, LEED AP, will serve as master of ceremonies. Tens of thousands of lights will decorate the 88-ft. Engelmann Spruce along with approx. 6,000 ornaments handmade by Washington State schoolchildren.
"Getting involved with the 2013 Capitol Christmas Tree over the past two weeks has been a fantastic experience," said Lawler. "I've enjoyed seeing so many families out, dancing together and getting ready for a wonderful holiday. And being able to promote my trucking family at this long-standing American tradition has been an honor and a privilege."
For more details about the journey of the 2013 Capitol Christmas Tree, visit http://capitolchristmastree.com.
Photos of the tree's tour and Lindsay Lawler's performances: click http://www.flickr.com/photos/tcanews/sets/72157637942085885.
# # #
TCA is the only national trade association whose collective sole focus is the truckload segment of the motor carrier industry. The association represents dry van, refrigerated, flatbed, and intermodal container carriers operating in the 48 contiguous states, as well as Alaska, Mexico, and Canada. Representing operators of more than 200,000 trucks, which collectively produce annual revenue of more than $20 billion, TCA is an organization tailored to specific truckload carrier needs.