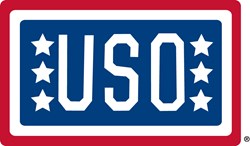 Arlington, VA (PRWEB) December 02, 2013
Twitter Pitch: @Lord_of_Q and @AdamRichman to make #USOmoments on @the_USO holiday tour to South Korea
WHAT: USO Entertainment Tour
WHO: Myron Mixon, celebrity chief turned star of Destination America's "BBQ Pitmasters" and author of Everyday Barbecue
Adam Richman, actor/host of Travel Channel's new show "Secret Eats" as well as NBC's upcoming show "Food Fighters" and author of America the Edible: A Hungry History, From Sea to Dining Sea
WHEN: December 3 - 8, 2013
Note. USO photos available throughout tour
WHERE: South Korea
WHY: "Ribs the Easy Way" and "Queen Lamb Salute Roulade" are just two of the mouthwatering holiday recipes that celebrity chef Myron Mixon and Travel Channel host Adam Richman will be sharing with troops this holiday on their moment-filled USO tour to South Korea December 3 - 8. Just in time for the holidays, the food connoisseurs will spill grilling and cooking secrets, unveil some of their favorite eating spots and extend their heartfelt gratitude to troops and their families.
An avid supporter of our men and women in uniform, Mixon is a USO tour veteran, who traveled to Kuwait in September 2010 and delivered a finger lickin' meal complete with beef brisket, chicken leg quarters, barbeque and all the fixings to more than 3,000 troops. Equally as supportive is Richman, who regularly participates in charity events benefiting America's Armed Forces.
Nicknamed the "Winningest Man in Barbecue," Mixon has earned more than 1,800 trophies and won more than 180 grand championships. Taught how to make barbecue by his father, Jack – Mixon started Jacks Old South Cooking School in 1996 and is the star of Destination America's "BBQ Pitmasters Series." Capitalizing on his culinary success, he wrote the New York Times bestselling cookbook Smokin' with Myron Mixon and went onto develop his own line of high quality, innovative water smokers. Mixon released his follow up cookbook Everyday Barbeque in 2013.
Host of NBC's "Food Fighters" and Travel Channel's "Adam Richman's Fandemonium," self-educated food expert Richman is a man of many hats – an actor, beloved television host, trained sushi chef and celebrated author. Named one of Yahoo's "Most Fascinating People," Richman hosted "Man vs. Food," "Man vs. Food Nation," "Amazing Eats" and "Adam Richman's Best Sandwich in America." His first book America the Edible: A Hungry History from Sea to Dining Sea was released in 2010 and is currently working on a second. He was also just named host of Travel Channel's new show "Eat Secrets," debuting in 2014.
NOTE: The "Every Moment Counts" campaign was launched by the USO on Veterans Day 2013 and invites Americans to join the USO in honoring and creating moments that matter for our nation's troops and their families – like the Myron Mixon/Adam Richman USO tour. The campaign centers around the countless every day moments – from family dinners, date nights and the holidays to children's births and bedtime stories – that our troops and their families miss and selflessly sacrifice due to their commitment and service to our country. To learn more, visit USOmoments.org.
About the USO
The USO lifts the spirits of America¹s troops and their families millions of times each year at hundreds of places worldwide. We provide a touch of home through centers at airports and military bases in the U.S. and abroad, top quality entertainment and innovative programs and services. We also provide critical support to those who need us most, including forward-deployed troops, military families, wounded warriors and families of the fallen. The USO is a private, non-profit organization, not a government agency. Our programs and services are made possible by the American people, support of our corporate partners and the dedication of our volunteers and staff.
In addition to individual donors and corporate sponsors, the USO is supported by President's Circle Partners: American Airlines, AT&T, Clear Channel, The Coca-Cola Company, jcpenney, Jeep, Kangaroo Express, Kroger, Lowe's, Northrop Grumman Corporation, Procter & Gamble, and TriWest Healthcare Alliance and Worldwide Strategic Partners: BAE Systems, The Boeing Company, Lockheed Martin, Microsoft Corporation and TKS Telepost Kabel-Service Kaiserslautern GmbH & Co. KG. We are also supported through the United Way and Combined Federal Campaign (CFC-11381). To join us in this patriotic mission, and to learn more about the USO, please visit uso.org.