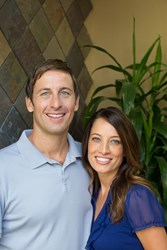 "We feel honored and blessed to be able to give back to the community..."
Kailua-Kona, HI (PRWEB) December 04, 2013
This November marks 10 years that Malama Chiropractic Clinic has been providing effective chiropractic treatments to the residents and visitors of Kailua-Kona, HI. Dr. Broderson and Dr. Hogan commemorated the anniversary by giving a percentage of their earnings to local charities that provide value and fulfill needs in the Kona community.
This anniversary is especially poignant for Dr. Jesse D. Broderson, who was born and raised on the big island of Hawaii. He has brought the latest in chiropractic technique to his hometown and has assisted his friends, family and neighbors in achieving pain relief and improved overall health.
As part of the 10th anniversary celebration, the team at Malama Chiropractic hosted a "Malama Gives Back" event. During the week of November 11-15, a portion of all proceeds were donated to local charities.
"We feel there is no greater joy than helping others and giving to those in need," said Dr. Broderson. During part of this anniversary week, clients were able to select a specific charity they would like to help benefit. Twenty percent of their office visit was directly donated to either:

Hawaii Food Bank
The Pregnancy Center
Jonathon's Foundation
Family Support Services
Other Charity of Choice
"We feel honored and blessed to be able to give back to the community that has supported us over the years," said Dr. Broderson.
The Malama Chiropractic team integrates the latest in chiropractic techniques with a compassionate and individualized approach to patient care. Along with chiropractic adjustments, the clinic also offers massage therapy, acupuncture, onsite x-ray services, nutritional counseling, physical therapy modalities and free health classes open to the public.
Dr. Broderson works alongside spinal rehabilitation specialist, Dr. Shannon Hogan. Together the team focuses on the patient as a whole and provides a natural approach to healing and living a pain-free life.
It is with great pride that they celebrate this milestone in their practice and look forward to continued success with patients and giving back to their community.